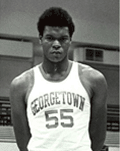 Despite his imposing 6-11, 255 lb. frame, Scates' scoring and agility were a work in progress throughout his four years at Georgetown. As a freshman, Scates played in just seven games as a backup to Merlin Wilson.
In 1976-77, Scates stepped up his game with action in 27 contests, including a 14 point, 13 rebound effort against Chicago State, and a 12 point, 11 rebound effort against Alabama. As a junior, Scates' scoring average slipped to 1.6 points per game, but his impact on the floor grew as a result of a new defensive weapon: the blocked shot.
"Tommy was very effective in shutting down the opposition's inside game," said head coach John Thompson prior to the 1978-79 season. "He is very intimidating, and few people want to go to the hoop against him."
Scates' senior season saw him start 25 games, with a then-record 62 blocks in 1978-79, breaking his own mark of 54 set the year before. Scates was a defensive presence throughout the season, if not an offensive one--he took only six field goal attempts in his final ten games.
Scates played basketball overseas for three years (1979-82) but his initial post-basketball career often elicited disapproving tones in the media: Tom Scates had become a doorman in the Marriott hotel chain. If some looked down on the job, Scates did not.
"I started doing this because when I came back to DC... I found that I really enjoyed the work," said Scates in an article posted in the 1986-87 Georgetown media guide. "It took me from an introverted and quiet person to a more extroverted outlook because that's what is needed to do my job well. I found that at my size I was going to be remembered and I wanted the impression to be positive. I also found that a job which could mean $200.00 a day was worth keeping.
"As long as I am comfortable with my niche in life what do I care what someone else thinks?" he asked. "I meet new people all of the time, I make good money and I'm free of a lot of the worries that go with judging your worth by the status of your job."
In later years, Tom Scates worked as a representative for Comcast. Scates died suddenly in 2008 at the age of 51.
---
| Season | GP | GS | Min | FG | FGA | % | 3FG | 3GA | % | FT | FTA | % | Off | Reb | Avg | PF | Ast | Blk | Stl | Pts | Avg |
| --- | --- | --- | --- | --- | --- | --- | --- | --- | --- | --- | --- | --- | --- | --- | --- | --- | --- | --- | --- | --- | --- |
| 1975-76 | 7 | | | 7 | 12 | 58.3 | | | | 1 | 9 | 11.1 | | 22 | 3.1 | | 0 | | | 15 | 2.5 |
| 1976-77 | 27 | | | 44 | 67 | 65.6 | | | | 12 | 30 | 0.4 | | 92 | 3.4 | | 6 | | | 100 | 3.7 |
| 1977-78 | 30 | | 383 | 18 | 31 | 58.0 | | | | 12 | 27 | 44.4 | | 124 | 4.1 | 65 | 2 | 54 | 1 | 48 | 1.6 |
| 1978-79 | 25 | | 432 | 19 | 39 | 48.7 | | | | 10 | 23 | 43.4 | | 88 | 3.5 | 63 | 1 | 62 | 4 | 48 | 1.9 |
| Totals | 90 | | | 88 | 149 | 59.0 | | | | 35 | 89 | 39.3 | | 326 | 3.6 | | 9 | 116 | | 211 | 2.3 |