Managers (Future Project)
Georgetown Head Basketball Coaches
Tom O'Keefe (1927-2015)
Head Coach, 1960-66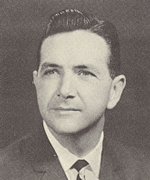 Thomas V. O'Keefe was born June 3, 1928 in Jersey City, NJ, growing up in the Journal Square neighborhood that developed numerous basketball and football stars of the era. He attended St. Peter's Prep, earning all county honors as a senior in 1945 and receiving a scholarship to Notre Dame. O'Keefe played in only one game for ND in 1945-46, where the Fighting Irish earned a 16-4 record under former Georgetown coach Elmer Ripley. When Ripley returned to Georgetown in the fall of 1946, O'Keefe and guard Ray Corley left with Ripley to the Hilltop.
O'Keefe was a three year starter at guard for the Hoyas from 1946 through 1950, the beneficiary of an NCAA waiver that gave O'Keefe a fourth year of eligibility. The first three time scoring champ at Georgetown since Ed Hargaden (1932-35), O'Keefe averaged 14.5 points as a senior and became the first player in GU basketball history to reach 1,000 points for his career. He was selected to play alongside Holy Cross guard Bob Cousy in the 1950 Collegiate All-Star game, and was a fourth round NBA draft pick in 1950.
The pro career of O'Keefe was a short one. He played just two games for the Washington Capitols, who would fold during the season. Traded up the road to the Baltimore Bullets, he would play in just two more games before O'Keefe enrolled in the Army in 1951. Following military service and a position in the FBI, he coached high school basketball at Gonzaga (DC) and was appointed as freshman coach at Georgetown in 1957. Over a three year run as freshman coach, O'Keefe's Hoyas teams were 41-16, a promising record that led Georgetown officials to select him as head coach in the fall of 1960.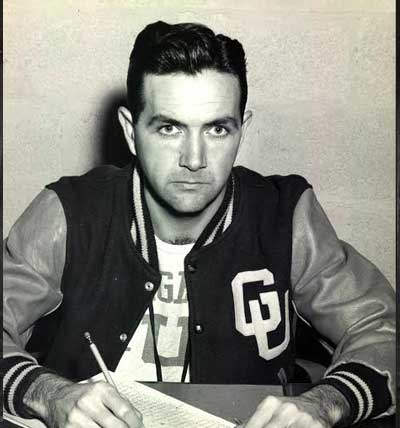 The Hoya teams of the O'Keefe era were among the most talented players of their generation at Georgetown. O'Keefe led the 1961-62 Hoyas to 14 wins, its most wins in a decade. A year later, he recruited another St. Peter's Prep guard, Jim Barry, who earned All-America honors on a team that lost four starters and nine seniors from the season before. Having recruited the likes of Jim Barry and Jim Brown, Jake Gibbons and Steve Sullivan, the Hoyas began each of the next three seasons with high hopes, only to be crushed in late season skids, including a 10-3 club in 1965 that dropped seven straight, and a 13-5 team in 1966 that dropped three straight that cost the Hoyas a NIT bid. Following a loss to Manhattan that ended the Hoyas' 1966 post-season hopes, O'Keefe announced his resignation at season's end, whereupon the Hoyas won their final three games to finish 16-8.
Over six seasons, Tom O'Keefe was 82-60 (.578) as head coach, but did so as a part-time employee who sold class rings to make ends meet. Amidst student and alumni calls to elevate O'Keefe to a full-time coach, Georgetown would not comply.
"Tom O'Keefe is here every morning and afternoon from October to March," said athletic director Jack Hagerty to The HOYA in 1966. "The only full-time [basketball] coach we ever had was Elmer Ripley in the 1940's, and during the off-months he would sit around my office in the morning, nap in the afternoon, and go to the movies at night."
O'Keefe left Georgetown in 1966 and pursued business interests through his retirement. While out of sight to fans in the John Thompson era, O'Keefe was never forgotten by his former players, who would host annual reunions with the coach well into the 2000's. In 2007, O'Keefe, one of the five living head coaches in Hoya basketball history, was honored during the program's centennial for his team's Dec. 27, 1963 upset of #1-ranked and defending NCAA champion Loyola-Chicago, which was featured in a video retrospective of the program (content begins at 1:49):
Tom O'Keefe was selected to the Georgetown University Athletic Hall of Fame in its inaugural class in 1953, and was honored in 2014 with a halftime ceremony at Verizon Center with some of his former players (all photos courtesy Georgetown University):