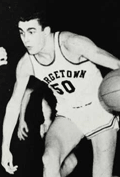 In today's college basketball world, enrolling the top recruit from the Washington, D.C. area would be a big recruiting story. Not so in the fall of 1956, when Georgetown welcomed forward Tom McCloskey, city MVP and leading scorer on Gonzaga's city championship team, with little contemporary fanfare. Such was the nature of college basketball in the 1950's, and McCloskey would have to wait a season before establishing his reputation as a scoring threat for the Hoyas .

McCloskey made an immediate impact in the fall of 1957. He scored a career high 24 against Loyola in only his second collegiate game, and scored in double figures in six of seven games heading into mid-January. By the start of the spring semester, McCloskey was second on the team in scoring (12.4) and rebounding (7.6), but the season ended abruptly when the University dropped McCloskey and three other players from the team for mid-semester grades. Though not ineligible by NCAA standards, Georgetown often suspended players in the 1950's over exams and teams struggled soon thereafter. Following the decision, Georgetown lost six of its final eight and finished under .500 for the first time in three seasons.

Of the four suspended in 1958, McCloskey was the only one to return to the team for his junior season. The 1958-59 season would prove to be a difficult one from the start, with 14 of 22 games on the road and only one senior left on the roster. McCloskey returned to form for the Hoyas, with double figures in 15 games that season, including 17 in an upset of Loyola-Chicago and 20 in a win over Syracuse. With an 8-8 record entering mid-February, the Hoyas' lack of depth and of height (no player taller than 6-4) finally caught up with the team, dropping seven straight to end the season 8-15.

McCloskey's efforts during a difficult season were vital for the Hoyas despite the record, for the 6-1 McCloskey played tough at a position where he was often overmatched, but rarely outplayed, by taller opponents. McCloskey's career average ranks among the top eight of the entire decade, and among the top ten all-time for players with a Georgetown career of two seasons or less.

For his senior year, McCloskey opted not to play basketball to focus on his studies. Joined by former varsity teammate Dick Razzetti, McCloskey played his final year on the Hilltop in the intramural ranks, where their team, titled the Big Muvas, swept to the 1960 intramural title.

McCloskey was selected to the Gonzaga Athletic Hall of Fame in 1985.
| Season | GP | GS | Min | FG | FGA | % | 3FG | 3GA | % | FT | FTA | % | Off | Reb | Avg | PF | Ast | Blk | Stl | Pts | Avg |
| --- | --- | --- | --- | --- | --- | --- | --- | --- | --- | --- | --- | --- | --- | --- | --- | --- | --- | --- | --- | --- | --- |
| 1957-58 | 13 | | | | | | | | | | | | | | | | | | | 162 | 12.4 |
| 1958-59 | 23 | | | | | | | | | | | | | | | | | | | 290 | 12.9 |
| Totals | 36 | | | | | | | | | | | | | | | | | | | 452 | 12.5 |