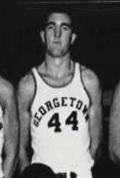 Described by The HOYA as "a bear under the boards", Tom Coleman proved a tough and resilient scorer and rebounder for Georgetown teams of the late 1950's and early 1960's. Among the top 25 rebounders in Georgetown history, Coleman is one of only two that were below the height of 6-6.

An all-Met forward from Gonzaga in 1957, Coleman was one of three Purple Eagles to start in the Georgetown lineup of 1958-59, and was its most productive. Starting at center on a team where his 6-4 frame was the tallest, Coleman helped the Hoyas through a difficult 8-15 season with some fine individual efforts, including 22 in an upset of Loyola-Chicago and 31 against George Washington. Coleman finished fourth in scoring but led the team in rebounding, and would be among the top three rebounders each of his three years at Georgetown.

In 1959-60, Coleman saw more time at forward and continued to be a force on both sides of the ball. Ten double figure games, including 24 versus Fordham and 26 versus Boston College, were season highs.

For his senior year, Coleman proved a leader on and off the court--he was elected team captain for the 1960-61 as well as Yard treasurer. Battling for scoring opportunities with the likes of Bob Sharpenter, Paul Tagliabue, and Jim Carrino, the senior played a key role role with a number of big games, including a combined 52 points in the Gulf South Classic, the Hoyas' first in-season tournament win since 1953. His college finale was among his most memorable efforts: a 21 point, 13 rebound effort versus Fordham that helped earned the Hoyas a three point upset win and its first winning season since 1956.

Tom Coleman joined the Georgetown coaching staff from 1961-64, coaching the freshmen teams during law school. He received an LL.B in 1964 and returned for his LL.M degree in 1970.


| Season | GP | GS | Min | FG | FGA | % | 3FG | 3GA | % | FT | FTA | % | Off | Reb | Avg | PF | Ast | Blk | Stl | Pts | Avg |
| --- | --- | --- | --- | --- | --- | --- | --- | --- | --- | --- | --- | --- | --- | --- | --- | --- | --- | --- | --- | --- | --- |
| 1958-59 | 23 | | | | | | | | | | | | | 264 | 11.4 | | | | | 260 | 11.3 |
| 1959-60 | 21 | | | 81 | 180 | 44.8 | | | | 80 | | | | 160 | 7.6 | | | | | 242 | 11.5 |
| 1960-61 | 21 | | | 67 | 145 | 46.2 | | | | 63 | | | | 127 | 6.0 | | | | | 197 | 8.4 |
| Totals | 65 | | | | | | | | | | | | | 551 | 8.5 | | | | | 699 | 10.8 |