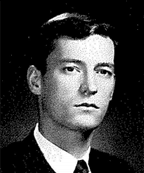 Much like Dr. Tom Cradock the season before, Tom Carroll played a reserve role as a sophomore forward before beginning a notable career off the court.

"Tom Carroll has many good offensive moves, and uses the back-board well on drives," write The HOYA in its season preview. "He also possesses a good jump shot to keep the defense honest."

Carroll saw action in only five games that season, but treasured his role with the team over a distinguished career in the judiciary. In 2016, Carroll provided an update in his class' 50th year retrospective: "After college, I graduated from Georgetown Law School and returned to New York City where I practiced law. In 1997, I began serving as a Judge of the New York State Supreme Court, Kings County, Criminal Term, for over 17 years... I retired from the bench effective January 2015 and have since been appointed a Judicial Hearing Officer. "Along with others from previous classes, Gen. James Jones, F'66, and I organized several basketball reunions. In 2007, I received Georgetown's William Gaston award. I am serving our 50th Reunion as co-chair for the College.

"For me, Georgetown provided an education not just in the classroom but in a way of life with the examples of, and conversations with, teachers, fellow students and Jesuits."
| Season | GP | GS | Min | FG | FGA | % | 3FG | 3GA | % | FT | FTA | % | Off | Reb | Avg | PF | Ast | Blk | Stl | Pts | Avg |
| --- | --- | --- | --- | --- | --- | --- | --- | --- | --- | --- | --- | --- | --- | --- | --- | --- | --- | --- | --- | --- | --- |
| 1963-64 | 5 | | | 2 | 5 | 40.0 | | | | 2 | 2 | 100 | | 2 | 0.4 | 0 | | | | 6 | 1.1 |
| Totals | 5 | | | 2 | 5 | 40.0 | | | | 2 | 2 | 100 | | 2 | 0.4 | 0 | | | | 6 | 1.1 |