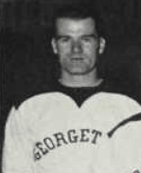 A three year starter across three different sports, Tom Carolan was a mainstay in Georgetown sports in the early 1930's.

A prep star in New York City, Carolan was Georgetown's scoring leader in 1932, scoring in double figures in seven of his 17 games, including back to back double figure games versus Pitt and West Virginia. He followed it up as second in scoring in 1933 to Ed Hargaden.

Carolan is listed as having graduated in 1933, but played nine games on the 1933-34 team through the end of January 1934. It is not known if he was a mid-year graduate or was awarded additional eligibility.

Following Georgetown, Carolan served in a number of public sector posts, including the U.S. Foreign Service, Works Progress Administration, Office of Price Administration, the Reconstruction Finance Corporation, and the Department of State. he retired in 1971 with the U.S. Information Agency in 1971 following a number of posts in Western Europe.

Despite an average of just 6.4 points per game, Carolan was among a number of 1930's basketball players who were warmly remembered by Washington newsmen in the creation of the original Georgetown University Athletic Hall of Fame in 1953, whereupon he was inducted.
| Season | GP | GS | Min | FG | FGA | % | 3FG | 3GA | % | FT | FTA | % | Off | Reb | Avg | PF | Ast | Blk | Stl | Pts | Avg |
| --- | --- | --- | --- | --- | --- | --- | --- | --- | --- | --- | --- | --- | --- | --- | --- | --- | --- | --- | --- | --- | --- |
| 1931-32 | 17 | | | | | | | | | | | | | | | | | | | 145 | 8.5 |
| 1932-33 | 13 | | | | | | | | | | | | | | | | | | | 80 | 6.1 |
| 1933-34 | 9 | | | | | | | | | | | | | | | | | | | 26 | 2.9 |
| Totals | 39 | | | | | | | | | | | | | | | | | | | 251 | 6.4 |