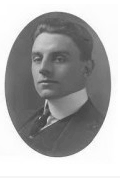 One of the first "walk-ons" to the Georgetown program, forward Roy Waldron became one of the program's earliest stars.

Owing to the focus of the men's program at the Law School, Waldron began his career not on the varsity, but on the "Collegians", a extramural team made up of undergraduates which played local teams. (The team once bested the varsity in Waldron's freshman season.) Twice during the 1911 and 1912 seasons, Waldron was brought up to the varsity, scoring a career high 17 against Virginia on Feb. 9, 1912, securing his place as a letterman thereafter.

Waldron took over the scoring mantle from graduating Frank Schlosser in 1912, leading the Blue and Gray with a 10.5 points per game average in 1913, followed by a second scoring title in 1914. Waldron's efforts were recognized with consecutive seasons as team captain, a rare honor for its day and the first such honor in the school's basketball history.

Within the "early era" from 1907 through 1920, Waldron ranks third in career scoring, earning four winning seasons in his four years on the Hilltop and a combined home court record of 35-5.
---
| Season | GP | GS | Min | FG | FGA | % | 3FG | 3GA | % | FT | FTA | % | Off | Reb | Avg | PF | Ast | Blk | Stl | Pts | Avg |
| --- | --- | --- | --- | --- | --- | --- | --- | --- | --- | --- | --- | --- | --- | --- | --- | --- | --- | --- | --- | --- | --- |
| 1910-11 | 7 | 0 | | | | | | | | | | | | | | | | | | 44 | 6.2 |
| 1911-12 | 9 | 7 | | | | | | | | | | | | | | | | | | 40 | 4.4 |
| 1912-13 | 15 | 15 | | | | | | | | | | | | | | | | | | 163 | 10.9 |
| 1913-14 | 11 | 11 | | | | | | | | | | | | | | | | | | 79 | 7.2 |
| Total | 42 | 33 | | | | | | | | | | | | | | | | | | 326 | 7.8 |