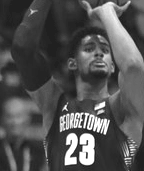 Rodney Pryor's time on the Hilltop was brief, but he made a name for himself.

Pryor's basketball story began on the "B" team at Evanston High School outside Chicago, followed by two years at Notre Dame Prep in Niles. By 2011, Pryor had the tools, but not the grades, and his next step was a year at Kirkwood Community College, which plays in the Iowa Community College Athletic Conference. For his second year in junior college, he transferred to Cloud County Community College in Concordia, KS, where a foot injury cost him one season and a knee injury sidelined him a second season, Unranked, and with just two years of eligibility remaining, In 2014, Pryor attracted the interest of Robert Morris, where he made an immediate impact.

Pryor started 52 of 64 games for the Colonials, averaging 16.7 points per game. The MVP of the 2015 NEC tournament, he led the Colonials to its first NCAA tournament appearance since 2010, where RMU earned only its second NCAA victory all-time in a win over North Florida in the opening round, and lost to Duke in the round of 64. Eligible under the NCAA fifth year waiver for graduates which had not previously exhausted their eligibility, teams took notice: Kansas, Florida, Gonzaga. His only visit was to Georgetown.

Pryor recalled his visit with the Chicago Tribune. "I played pickup ball with the guys, and it was just a good vibe. My mom had a good feeling there, the area is nice, there are so many different kinds of people and great networking possibilities. A lot of friends talked about how great a degree from Georgetown would be."

In his single season at GU, Pryor led the Hoyas in scoring, with a season high 32 in the opener versus USC-Upstate. His 84 three pointers were twice that of any other teammate, and despite standing only 6-5, he tied for the team lead in rebounds. With only one year of statistics, Pryor's 18.0 career average stands second among all former Georgetown players, trailing only Allen Iverson.
| Season | GP | GS | Min | FG | FGA | % | 3FG | 3GA | % | FT | FTA | % | Off | Reb | Avg | PF | Ast | Blk | Stl | Pts | Avg |
| --- | --- | --- | --- | --- | --- | --- | --- | --- | --- | --- | --- | --- | --- | --- | --- | --- | --- | --- | --- | --- | --- |
| 2016-17 | 32 | 32 | 1044 | 212 | 442 | 18.0 | 84 | 204 | 41.2 | 69 | 94 | 73.4 | 33 | 160 | 5.0 | 73 | 41 | 22 | 25 | 577 | 18.0 |
| Totals | 32 | 32 | 1044 | 212 | 442 | 18.0 | 84 | 204 | 41.2 | 69 | 94 | 73.4 | 33 | 160 | 5.0 | 73 | 41 | 22 | 25 | 577 | 18.0 |