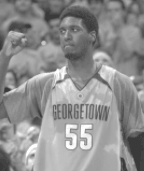 It's easy to forget that Roy Hibbert once was considered more a project than a NBA prospect. Called no less than "the big stiff" by former coach John Thompson, Hibbert's weight and footwork were a definite concern when he committed to the Hoyas in November 2002, two years before his college debut.

Hibbert made his first start eight games into the 2004-05 season, where he averaged just 5.1 points per game. The off-season conditioning and footwork drills began to make an impact in 2005-06, where he was named second team All-Big East and averaged 12.7 points and 10.0 rebounds in three NCAA tournament games. Where once he was just a fan favorite, Hibbert's play soon became vital to Georgetown's move up the rankings in 2006-07.

Hibbert's development on both sides of the court was striking. In his freshman season, he failed to score in eight games, but by junior year he was second in the nation in shooting percentage, with 26 double figure scoring efforts and five straight double-doubles that powered Georgetown into the Final Four. The NCAA exposure and Hibbert's battle with NBA first rounder Greg Oden led many NBA scouts to consider Hibbert a top ten selection. Hibbert was "50/50" on the move, but announced in May, 2007 that he would return to finish his degree and complete his four years at Georgetown as so many have done before.

"I thought about it and said to myself, 'Do I really want to stay in the draft and sit on the bench?'" My heart was here," Hibbert said. "I feel like I have unfinished business here."

Hibbert continued to raise his game in 2007-08, and in many ways has became the fulcrum for the Hoyas' success down the stretch. Like Jeff Green before him, as Hibbert goes, so go the Hoyas, "He has matured on and off the court this year," coach John Thompson III told the Washington Post. "He has been placed in basketball situations that he's never been in before, where he is the best player on his team. He's never been the best player on his team in his life. Just that maturation process, that understanding, has helped him grow and get better." "Early in his career, [he] couldn't even run properly. Now his deft shooting touch inside the paint, and from the top of the arc, has made him a star," writes Mike Hume in the Falls Church News-Press. "Hibbert is so beloved that when students scream his name they then repeat it three times, in triplicate, to the tune of "Eye of the Tiger." How many other All-Americans have their own theme song?"

Hibbert earned second team All-America honors in 2008 and a first round selection in the NBA draft that summer. Drafted by the Toronto Raptors, he was immediately traded to the Indiana Pacers where, he was a two time NBA All-Star and played seven years as the Pacers' starter. The changing role of the center in the NBA began to limit his effectiveness, as well as sizeable contracts earned while with the Pacers. Hibbert has seen only spot duty over the last three seasons with three different teams.
| Season | GP | GS | Min | FG | FGA | % | 3FG | 3GA | % | FT | FTA | % | Off | Reb | Avg | PF | Ast | Blk | Stl | Pts | Avg |
| --- | --- | --- | --- | --- | --- | --- | --- | --- | --- | --- | --- | --- | --- | --- | --- | --- | --- | --- | --- | --- | --- |
| 2004-05 | 32 | 17 | 507 | 60 | 128 | 46.8 | 0 | 0 | 0.0 | 43 | 65 | 66.1 | 46 | 111 | 3.4 | 73 | 30 | 40 | 11 | 163 | 5.1 |
| 2005-06 | 33 | 33 | 793 | 148 | 251 | 58.9 | 0 | 0 | 0.0 | 86 | 119 | 72.2 | 89 | 227 | 6.8 | 68 | 44 | 54 | 8 | 382 | 11.6 |
| 2006-07 | 37 | 37 | 975 | 186 | 277 | 67.1 | 0 | 0 | 0.0 | 105 | 153 | 68.6 | 100 | 254 | 6.8 | 103 | 39 | 90 | 18 | 477 | 12.9 |
| 2007-08 | 34 | 34 | 894 | 179 | 294 | 60.8 | 3 | 3 | 100 | 93 | 144 | 64.5 | 75 | 216 | 6.3 | 92 | 63 | 75 | 18 | 454 | 13.4 |
| Totals | 136 | 121 | 3169 | 573 | 950 | 60.3 | 3 | 3 | 100 | 327 | 481 | 67.9 | 310 | 808 | 5.9 | 336 | 176 | 259 | 55 | 1476 | 10.8 |