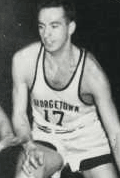 Recruited to Notre Dame by Elmer Ripley in 1945, Ray Corley was one of three members of the 1945-46 ND team that followed Ripley back to Georgetown for the coach's third tour of duty at the Hilltop. Owing to eligibility rules that waived the 1945-46 season, this allowed "the Chief" to play three years at Georgetown.

By many accounts, Corley was one of the school's better ball handlers of the decade; however, Corley's place on this list may be understated due to the lack of general record keeping on Georgetown teams of the late 1940's. While we know Corley finished runner up in scoring all three years, only the 1947-48 season has full player statistics. The Ye Domesday Booke yearbook proclaimed Corley "the best ball player in the District", but without a full three years of detail, such comparisons are speculative.

Corley was a notable member of the Georgetown alumni of this era, statistics notwithstanding. Following Georgetown, he played three seasons in the NBA, beginning with the Syracuse Nationals and ending with the Ft. Wayne Pistons in 1953.
---
| Season | GP | GS | Min | FG | FGA | % | 3FG | 3GA | % | FT | FTA | % | Off | Reb | Avg | PF | Ast | Blk | Stl | Pts | Avg |
| --- | --- | --- | --- | --- | --- | --- | --- | --- | --- | --- | --- | --- | --- | --- | --- | --- | --- | --- | --- | --- | --- |
| 1946-47 | NA | | | | | | | | | | | | | | | | | | | NA | NA |
| 1947-48 | 28 | | | | | | | | | | | | | | | | | | | 256 | 9.1 |
| 1948-49 | NA | | | | | | | | | | | | | | | | | | | NA | NA |
| Total | | | | | | | | | | | | | | | | | | | | 256 | 9.1 |