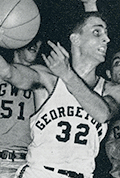 One of Georgetown's most distinguished alumni, Paul Tagliabue was a three year starter for the Hoyas in the early 1960's. "A typical 'Tag' game, wrote The HOYA, "[was] always aggressive and accurate more than not."

Tagliabue grew up in a working class neighborhood in Jersey City, NJ, and sought to be a top basketball player. He played as often as he could, banging his elbows against the walls of his basement to toughen them up for cold weather play. A skilled forward and center at St. Michael's HS in nearby Union City, Tagliabue was a local recruit with national interest. Closely recruited by Notre Dame and North Carolina in 1957-58, Tagliabue turned down an offer from the defending national champions from UNC in part, because his father wanted him closer to home. "Washington was at the end of his radar screen," he said.

Tagliabue had interests beyond just basketball. He originally sought to be a math major at Georgetown but changed to government, becoming a consistent Dean's List selection. On the court, the toughness he had built up over his years playing in Jersey City was evident on the McDonough hardwood. As a sophomore, he finished third in scoring and led the team in rebounding, scoring in double figures in eight of his last ten games. By contemporary accounts, Tagliabue was not afraid to use his elbows to clear the lane, and his reputation as a tough rebounder was well known. Though only 6-4 1/2, he was adept at fighting for rebounds with larger players on a regular basis.

In 1960-61, Tagliabue led the team in rebounds for a second straight year and finished third in scoring by two points. A 21 point effort against Rhode Island was a season high, with 15 double figure scoring efforts in 21 games. While his shooting was not automatic (he averaged 39% from the field in his junior and senior seasons), Tagliabue could be counted on for the offensive rebound and to get the points when it counted.

Elected president of his class in 1962, Tagliabue was also elected team captain. By senior year, "Tag" had become "Old Tag" to the younger players, but the captain continued to perform at a high level. Averaging 11.3 points per game for the 14-9 Hoyas, Tagliabue posted season highs of 18 points against George Washington and 13 rebounds against St. Joseph's. Despite not playing a true center position, Tagliabue ended his career the school's second all-time leading rebounder by number and by average and was named the recipient of the Robert A. Duffey Scholar-Athlete Award.

"By my junior year, my love for basketball was losing out to my love for the library. I was more interested in debating communism and democracy with the political science faculty than in shooting baskets," Tagliabue recalled in a 2006 Georgetown address. "In my senior year, my most memorable basketball game was in Madison Square Garden. It's memorable because I missed it to participate as a finalist in the Rhodes Scholarship competition."

Tagliabue was not selected for the Rhodes but won a scholarship to NYU law school, the beginning of a career which would take him to a federal clerkship, an award-winning policy analyst for the Department of Defense, and an attorney with the Washington firm of Covington and Burling, whose firm represented the National Football League. When NFL Commissioner Pete Rozelle retired in 1989, he recommended the NFL's counsel, Paul Tagliabue as his successor, a position Tagliabue held for 17 years before retiring in 2006.

A key force in the diversification of NFL revenues without risking labor unrest, Tagliabue increased the size of the NFL's TV contacts from $473 million in 1989 (his first year as commissioner) to over $3.6 billion in 2006. The average value of an NFL franchise grew by 212% in seven years under Tagliabue, and have outpaced the Standard & Poor's 500 by 11 times, according to Forbes magazine.

Howard Bloom of Sports Business News saluted Tagliabue's ability to balance the disparate and often competing interests of NFL owners, players, fans, and sponsors thusly: "Here's to the winner, a salute to the single greatest leader in the history of the sports industry, a man among men-- Paul Tagliabue, the best there will ever be."

In the aforementioned talk to Georgetown graduates, Tagliabue recalled how, upon a trip to China, the host officials criticized the game of football as violent and individualistic, traits not espoused in that society. "'On the contrary," Tagliabue told his hosts. "Football isn't about violence. It's about dealing with adversity. It is a metaphor for life's challenges. It's all about commitment, work ethic, common goals pursued both individually and through teamwork.'

Those same qualities have led Paul Tagliabue throughout his life, first as a young collegian representing Georgetown basketball, and for a career at the highest levels of law, sports, and corporate America.
---
| Season | GP | GS | Min | FG | FGA | % | 3FG | 3GA | % | FT | FTA | % | Off | Reb | Avg | PF | Ast | Blk | Stl | Pts | Avg |
| --- | --- | --- | --- | --- | --- | --- | --- | --- | --- | --- | --- | --- | --- | --- | --- | --- | --- | --- | --- | --- | --- |
| 1959-60 | 21 | | | | | | | | | | | | | 206 | 9.8 | | | | | 209 | 9.5 |
| 1960-61 | 21 | | | | | | | | | | | | | 173 | 8.2 | | | | | 267 | 12.6 |
| 1961-62 | 21 | | | | | | | | | | | | | 205 | 9.7 | | | | | 237 | 11.3 |
| Totals | 62 | | | | | | | | | | | | | 584 | 9.2 | | | | | 713 | 11.3 |