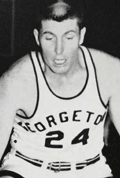 Had he made the "1,000 point club" in the Georgetown record books, "Matty" White might have been one of the memorable players of the 1950's. With 751 points over his 61 game career, White's accomplishments deserve a second look.

"[He] was one of the big basketball guys in the old neighborhood," wrote Jay Price of the Staten Island Advance, "going back to when he was a player at LaSalle Academy and Georgetown, the stuff [he] never talked about for fear it might sound like bragging." A multi-sport star at LaSalle, White was the first 1,000+ point high school scorer ever from Staten Island.

Arriving at Georgetown in the fall of 1953, White averaged 15.2 points per game for the freshman team and entered his sophomore year with a high-flying style in an era still known for methodical play.

In 1953-54, his debut year on the varsity, White averaged 11.2 points per game, with eight double figure games and a season high of 22 in an upset of Fordham. His season was cut short when White and three other players were suspended for the final seven games of the season for violating unspecified team rules during a road trip.

White returend to the team in 1955-56 and found himself battling for a starting job alongside senior Jack Walsh and sophomore Ken Pichette. White's ability to play guard or forward as the situation dictated made him a valuable part of the Georgetown teams of 1956 and 1957. His 24 points over Morehead State was a career high, and he scored in double figures in all but five games his senior season. Consistency was also part of his game--in one nine game stretch in 1956-57, White scored exactly 16 points in six different games. White finished runner up to Joe Missett in scoring in 1956 and 1957, and graduated with statistics among the top five scorers of the 1950's by points and by scoring average.

After college, Matt White was a longtime high school coach on Staten Island, and was inducted to the New York CHSAA Coaches Hall of Fame in 1997. White also served over two decades as an assistant basketball coach at the College of Staten Island, before retiring in 2006.
---
| Season | GP | GS | Min | FG | FGA | % | 3FG | 3GA | % | FT | FTA | % | Off | Reb | Avg | PF | Ast | Blk | Stl | Pts | Avg |
| --- | --- | --- | --- | --- | --- | --- | --- | --- | --- | --- | --- | --- | --- | --- | --- | --- | --- | --- | --- | --- | --- |
| 1954-55 | 17 | | | | | | | | | | | | | | | | | | | 191 | 11.1 |
| 1955-56 | 22 | | | | | | | | | | | | | | | | | | | 290 | 13.2 |
| 1956-57 | 22 | | | | | | | | | | | | | | | | | | | 270 | 12.3 |
| Totals | 61 | | | | | | | | | | | | | | | | | | | 751 | 12.5 |