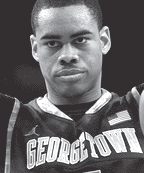 Through his four years, Markel Starks expected the best out of his team, and wasn't hesitant to say so.

"What you put into [basketball] is what you get out of it," he told the Washington Post. "Our coaching staff does an excellent job of preparing us, but you also have to have some personal responsibility within yourself to say: 'You know what? I'm going to do extra. I'm not going to rely on one of my teammates.' We always say, 'Have your teammate's back.' But at the end of the day, in order to have your teammate's back, you've got to have your own back. I think a lot of guys coming into the season were [thinking], 'We were so good last year, I'm going to take a day off here, take a day off and not work as hard today.'

"I think across the board, as a collective, we had a lot of days like that."

Starks learned the lessons of leadership through hard work. In a February 2014 feature in the Post, the "Double Hoya" (a graduate of both Prep and the University) talked about what got him to the Hilltop.

"I grew up being a fan of Georgetown, I grew up coming to the games. I was here for the Duke game [in 2006]," he recalled. "I was at that game, going to the various games and the one or two that were played in McDonough, just that Georgetown pride."

"Waking up every morning at 5:30 to get to Mater Dei, I missed [only] three days of school, two days because of shadow visits, one day because I was just sick. That constant day in day out grind. It wasn't just me... My dad, my mom, making that sacrifice for two straight years and then I got out to Prep. I boarded. I was 15 years old and living by myself, fighting those mental battles. I'll be the first one to tell you that school work hasn't always been my best suit and I've had to work and I've translated what I did off the court onto what I did on the court and I worked, I'm a worker. You've heard coach say it a number of times and you've watched me grow up and I'm a worker."

"I bring my lunch pail every day and like I said, just to be at this point and finally get here. I went through some tough times here just from a mental standpoint and that's just a part of maturity. That's just part of becoming a man.

The first All-Met first team selection ever from Georgetown Prep, Starks committed to John Thompson III's program in September 2008, averaging 25 points a game for the Little Hoyas en route to the IAC title. As a freshmen, he saw action in 30 games as a backup to Chris Wright, but quickly picked up his game to start 25 games as a sophomore, shooting 45 percent from the field, with a 20 point effort against Louisville.

Starks was a major contributor in the backcourt over his final two years, with numerous late game heroics for the Hoyas. The second leading scorer to Otto Porter in 2013, he finished ten points short of D'Vauntes Smith-Rivera for the 2013-14 scoring title but was named first team All-Big East for his efforts. He scored a season best 17 points and 11 assists in the Hoyas win over #13 Creighton, but saw the Hoyas lose three of its last four and finish in the NIT for the first time in five seasons.

"Everything isn't always going to go your way," he said. A lot of guys go through situations where they come in and play right away, and they don't always work. I went through some ups and downs and that's only made me stronger. That's only made me persevere and adversity is good. "

| Season | GP | GS | Min | FG | FGA | % | 3FG | 3GA | % | FT | FTA | % | Off | Reb | Avg | PF | Ast | Blk | Stl | Pts | Avg |
| --- | --- | --- | --- | --- | --- | --- | --- | --- | --- | --- | --- | --- | --- | --- | --- | --- | --- | --- | --- | --- | --- |
| 2010-11 | 30 | 0 | 290 | 17 | 60 | 28.3 | 9 | 35 | 25.1 | 3 | 5 | 60.0 | 5 | 17 | 0.5 | 34 | 20 | 0 | 9 | 46 | 1.5 |
| 2011-12 | 31 | 25 | 757 | 80 | 176 | 45.5 | 36 | 98 | 36.7 | 23 | 33 | 69.7 | 9 | 49 | 1.6 | 60 | 49 | 4 | 18 | 219 | 7.1 |
| 2012-13 | 32 | 32 | 1092 | 155 | 339 | 45.7 | 63 | 151 | 41.7 | 38 | 52 | 73.1 | 10 | 59 | 1.8 | 69 | 96 | 2 | 43 | 411 | 12.8 |
| 2013-14 | 33 | 33 | 1222 | 186 | 451 | 41.2 | 57 | 175 | 32.6 | 141 | 162 | 87.0 | 14 | 76 | 2.3 | 78 | 135 | 3 | 30 | 570 | 17.3 |
| Totals | 126 | 90 | 3361 | 438 | 1026 | 42.6 | 165 | 459 | 35.9 | 205 | 252 | 81.3 | 38 | 201 | 1.5 | 241 | 300 | 10 | 100 | 1246 | 9.8 |