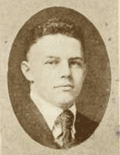 A combined pre-med and medical school graduate over a six year tenure at Georgetown from 1914 to 1920, Donnelly played two seasons on the varsity, and was named as captain for the 1915-16 season. The Ye Domesday Booke yearbook called him "a little fellow, built near the ground, but very hard and solid, a product of the Northern Adirondacks."

"There are none who have not heard of the "Little Doc," they continued. "He may be little, but in reality the biggest noise that the G. U. medical boasts of. "Matt", before entering medical school, was a member of the Varsity basketball team during his two years' stay on the "Hill", being captain during his Sophomore year."

Following residency, Donnelly returned to his home town of Gloversville, NY to practice medicine, which he did for 44 years until his death in 1961 at the age of 65.
| Season | GP | GS | Min | FG | FGA | % | 3FG | 3GA | % | FT | FTA | % | Off | Reb | Avg | PF | Ast | Blk | Stl | Pts | Avg |
| --- | --- | --- | --- | --- | --- | --- | --- | --- | --- | --- | --- | --- | --- | --- | --- | --- | --- | --- | --- | --- | --- |
| 1914-15 | 5 | | | | | | | | | | | | | | | | | | | 0 | 0.0 |
| 1915-16 | 13 | | | | | | | | | | | | | | | | | | | 14 | 1.0 |
| Totals | 18 | | | | | | | | | | | | | | | | | | | 14 | 0.8 |