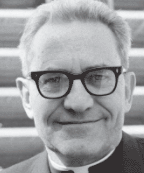 Leo McLaughlin's one year on the Georgetown varsity was only a prelude to a 30 year career in Jesuit higher education.

Following his sophomore season, where he played in 15 games, McLaughlin took what would now be known as a study abroad opportunity, studying at the Sorbonne in 1933 and joining the Jesuit order before returning to campus. He completed his baccalaureate degree at Georgetown in 1934 and completed a postgraduate degree at Catholic in 1940. He served as dean of students at St. Peter's College in the late 1950's and held the same role at Fordham University in the early 1960's. McLaughlin was installed as president at Fordham in 1965 and ushered in perhaps the most tumultuous period in that school's history.

"McLaughlin was the Jesuit answer to the 1960's," wrote the New York Times."As a transforming president of Fordham from 1965 to 1969, he opened up the curriculum beyond traditional theological courses, encouraged academic experimentation, fought for higher faculty salaries even as he was turning the established Jesuit faculty inside out, brought Marshall McLuhan to Fordham as a professor and even wrested the university from Jesuit control." McLaughlin sought to elevate Fordham above a merely Catholic cohort, but found few followers. One of his leading supporters was Fordham's executive vice president, Timothy S. Healy, S.J., who served as president of Georgetown University from 1976 to 1989.

Not of all of McLaughlin's innovations in education were well received, however. A plan to take Fordham independent of church control stalled, while an experimental college program collapsed of its own weight. The program, called Bensalem College, enrolled students where they would live communally with faculty in a Bronx apartment complex and not be subject to courses or even grades. The only requirement was to study the Urdu language, largely because a faculty member found it a novel concept.

McLaughlin's leadership had a more direct effect--the school was losing money and losing support among his fellow Jesuits. He was forced to resign in 1968.

"I still regard the loss of Leo McLaughlin as a deadly blow to [Fordham], but I suspect that is not a popular opinion, nor a very general one," Healy remarked. "It's fascinating that the people who shot him down profited largely from absolutely everything he had done. Here was a man who unfortunately thought ahead of his time, and in those days at Fordham that was an unforgivable sin."

Though promoted to the honorific of chancellor, the free spirit in McLaughlin left Fordham to become director of freshman studies at Johnson C. Smith College, a historically black college in Charlotte, then two years later to become a professor at New Jersey's Ramapo College. According to a front page story in the New York Times, he was excommunicated in 1973 when, at 61, he married a 26 year old woman before getting approval to be relieved of his vows. When asked why he did not wait for approval, McLaughlin responded that "Impatience, I guess. I'm not young and a year is a long time to wait."

Following the death of his wife in 1994 and in declining health, McLaughlin spent his final years at a Jesuit nursing home.
---
| Season | GP | GS | Min | FG | FGA | % | 3FG | 3GA | % | FT | FTA | % | Off | Reb | Avg | PF | Ast | Blk | Stl | Pts | Avg |
| --- | --- | --- | --- | --- | --- | --- | --- | --- | --- | --- | --- | --- | --- | --- | --- | --- | --- | --- | --- | --- | --- |
| 1931-32 | 15 | | | | | | | | | | | | | | | | | | | 23 | 1.5 |
| Totals | 15 | | | | | | | | | | | | | | | | | | | 23 | 1.5 |