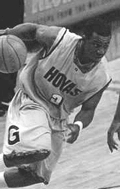 Once a "can't miss" NBA prospect, Kenny Brunner became a sports footnote in a matter of months.


The playmaking guard on a high school team that featured Tayshaun Prince (Kentucky) and Jason Thomas (UNLV), Brunner was considered the nation's top point guard and a top 10 prospect when he made a verbal pledge to attend to Fresno State in the fall of 1996, but decommitted in the wake of point shaving allegations at the school. Instead, he signed with georgetown, which had also been recruiting a pair of top-10 guards in Khalid El-Amin and Anthony Perry. John Thompson passed on El-Amin, but the prospect of Brunner and Perry in the backcourt suggested a return to glory for the Hoyas.
A victim of the NCAA Clearinghouse, Perry sat the 1997-98 season, but Brunner quickly established his presence. He led the team with 14 points and eight assists in the 1997-98 opener, and scored in double figures in his first eight games and 15 of 17 games by the end of January, and was ranked seventh nationally in assists. In early February, he was held out of the lineup in two games for what Georgetown called "personal reasons". On Feb. 8, 1998 he quit the team, where the Associated Press noted "Brunner did not play in Georgetown's 76-56 victory over Notre Dame at Washington on Saturday and after the game was waiting to talk with Georgetown Coach John Thompson when the team returned to the school campus.Thompson said Brunner has been receiving counseling for a problem not related to the team or academics."
Brunner's timing was not coincidental. With a plane waiting for him from Fresno State, he enrolled the next day at FSU on the last day of registration for the spring semester. But five weeks later, while sitting out his freshman season, Brunner and fellow teammate Avondre Jones were thrown off the team for the robbery and assault of a Fresno State student.According to reports, Brunner assaulted the victim with a samurai sword.
"A single sentence in your April 26 news wire summed up what's wrong with today's professional and college sports," wrote the Los Angeles Times On May 2, 1998: "Fresno State point guard Kenny Brunner, accused of beating a man with a samurai sword, says he will make himself eligible for the NBA draft." Instead, Brunner went undrafted. He enrolled at Santa Monica Junior College. A few weeks later, more trouble followed.
On May 24, 1998, Brunner was arrested for the attempted murder of Mike Miller, the basketball coach at nearby L.A. City College. Miller and three witnesses reported that Brunner approached the coach in his office, demanded money, placed a handgun in Miller's chest, and pulled the trigger, but the gun did not go off. He left with $1,500 and was arrested later that day.
"I feel bad for Kenny," said Fresno State coach Jerry Tarkanian "I find it hard to believe he could do something so stupid."
Brunner spent four months in county jail awaiting trial; the charges were dropped when Miller and all three witnesses recanted their stories and told authorities they did not know who was the assailant, despite Miller seeing the man directly at gunpoint. The samurai charges were also dropped, and Brunner returned to basketball.
Kenny Brunner became a basketball vagabond. He never played at Santa Monica and found his way to the College of Southern Idaho, averaging 14.2 points in the spring of 2000. Recruited to the University of Georgia by Jim Harrick in 2001, his scholarship offer was overruled by the school's president. A semester at Division II Salem Teikyo University followed, but Brunner quit school within a month and joined the fledgling American Basketball Association, alternating with various stints in Europe, Mexico, and Dubai. He later joined a traveling streetball circuit as "Bad Santa". By 2010, he landed in Australia, where he has settled as a coach at the high school level for the Western Port Association, a town of 3,300 south of Melbourne.
In only 19 games, Kenny Brunner holds the career assist average record at Georgetown. His potential was remarkable, but unfulfilled.
---
| Season | GP | GS | Min | FG | FGA | % | 3FG | 3GA | % | FT | FTA | % | Off | Reb | Avg | PF | Ast | Blk | Stl | Pts | Avg |
| --- | --- | --- | --- | --- | --- | --- | --- | --- | --- | --- | --- | --- | --- | --- | --- | --- | --- | --- | --- | --- | --- |
| 1997-98 | 19 | 19 | 548 | 76 | 226 | 33.6 | 7 | 40 | 17.5 | 53 | 90 | 58.8 | 22 | 60 | 3.1 | 63 | 139 | 1 | 52 | 212 | 11.2 |
| Totals | 19 | 19 | 548 | 76 | 226 | 33.6 | 7 | 40 | 17.5 | 53 | 90 | 58.8 | 22 | 60 | 3.1 | 63 | 139 | 1 | 52 | 212 | 11.2 |