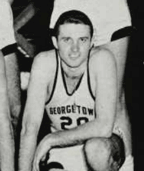 As fans, we often read about the Georgetown basketball alumni that go on to great things in the NBA or in the national spotlight. For others, it is only in their passing that we learn about the contributions that these alumni have made to their school and their local community.

In 2005, the San Diego Union Tribune presented an extensive feature on the death of Jack Walsh, a three year letterman at Georgetown from 1953 through 1956 who averaged 4.9 points per game and served as team captain his senior year.

Walsh was not just an athlete. A double major in government and science, Walsh was a four year member of the HOYA, and served as editor in chief in the spring and fall of 1955. He was sports director at WGTB, a three year member of the yearbook, ran track for a season, and served as secretary of the Yard Council his senior year. Following Georgetown, he contributed mightily to his community.

According to the newspaper account, Walsh moved to San Diego following graduation and military service. Elected at only 29 to the San Diego City Council, he served five years as a councilman and eight years on the San Diego Board of Supervisors. Walsh was described by a contemporary as a "Republican Jack Kennedy" who supported the city's tremendous growth, but not at the expense of the local community. "He was on the early cusp of making sure development was sensitive to the community's needs," his son said. "He tended to really go out of his way for the little guy."

In 1976, Walsh retired from politics, becoming a local television commentator and businessman. In real estate, Walsh built or acquired 1,200 housing units for low income families during the 1980's. "I just felt there was a need for someone to go into those areas," he told the Union-Tribune in 1999. "My goal was to build clean, safe housing."

Jack Walsh was a year removed from his class' 50th anniversary when he died in 2005 at the age of 71.
| Season | GP | GS | Min | FG | FGA | % | 3FG | 3GA | % | FT | FTA | % | Off | Reb | Avg | PF | Ast | Blk | Stl | Pts | Avg |
| --- | --- | --- | --- | --- | --- | --- | --- | --- | --- | --- | --- | --- | --- | --- | --- | --- | --- | --- | --- | --- | --- |
| 1953-54 | 18 | | | | | | | | | | | | | | | | | | | 121 | |
| 1954-55 | 24 | | | 50 | 131 | 38.1 | | | | 24 | 62 | 38.7 | | 69 | 0.6 | | | | | 125 | 5.2 |
| 1955-56 | 22 | | | | | | | | | | | | | | | | | | | 72 | 3.3 |
| Totals | 65 | | | | | | | | | | | | | | | | | | | 318 | 4.9 |