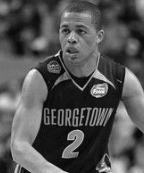 President of his senior class. National Honor Society member. A three sport letterman who worked on a farm when he wasn't competing on the court. Yet for Jonathan Wallace, Division I scholarship offers were few and far between: Missouri State, Troy, and Samford. Wallace was headed to a financial aid offer at Princeton, that is, until coach John Thompson III signed with Georgetown. Wallace became Thompson's first Georgetown recruit, and set the stage for a remarkable college career.

Raised in Harvest, Alabama, Wallace was not only the sun of the school principal but a steady hand on the farm. "He would wake up before school and feed the cows," said the New York Times in 2008. "He would spend weekend days cutting and baling hay. He would chop wood and mend fences. The rolling pastures and halcyon days offered the perfect opportunity for a boy's mind to drift like a stray piece of hay. Wallace's mind often fixed on basketball, toward his dream of playing for a major Division I program."

Wallace was recruited by John Thompson III while Thompson was at Princeton, but Wallace never made a recruiting trip to Georgetown. His first visit to the Hilltop was for a debate tournament.

Thompson started the freshman in his first game and Wallace was there ever since. In his first season he smashed all previous records for Georgetown walk-ons, and helped set the foundation for the Princeton offense that his teammates were still learning. By 2006, with Georgetown returning to the NCAA's for the first time since 2001, Wallace was squarely at the helm, shooting 41% from three point range and 79% from the line.

"He was just someone as a person that I wanted around the team I was coaching," Thompson told the New York Times. "And as a player, he did what he does now: He made every shot he took and didn't make bad decisions."

Wallace continued his development in 2006-07, scoring in double figures in 24 games and extending his mastery of the three point shot, becoming Georgetown's all time leader in threes made and in percentage. At a school which once labored mightily from three point range, Wallace made it an essential part of the Georgetown offense, none more so than in Georgetown's upset of #1 North Carolina in the NCAA regional finals. Averaging 10.4 points in his senior year, Wallace finished among the top 25 scorers in school history.

But statistics never told the full story on Jonathan Wallace. Wallace's story was one of hard work and persistence, on and off the court, and his personality gave fans an added perspective of a student athlete that has exceeded every expectation, that is, but his own.

"You win with people like Jon Wallace," said Coach Thompson. "You look at him, he's not the fastest person in the world, he's not the strongest person, never will be. But he has character, he has guts, and he's a good man. He's willed his way through so many situations and is someone who has gotten the most of his God-given ability."

And when you're down three on the last play of the game, you knew who'll get the ball.

Following graduation, Wallace had a standing offer for Georgetown law but chose to play professionally in Germany, at least for a year or so to see the world. His career extended for eight more years. He returned to Georgetown as a special assistant in John Thompson III's last year, and was retained by new coach Patrick Ewing in 2017.


| Season | GP | GS | Min | FG | FGA | % | 3FG | 3GA | % | FT | FTA | % | Off | Reb | Avg | PF | Ast | Blk | Stl | Pts | Avg |
| --- | --- | --- | --- | --- | --- | --- | --- | --- | --- | --- | --- | --- | --- | --- | --- | --- | --- | --- | --- | --- | --- |
| 2004-05 | 32 | 32 | 972 | 68 | 179 | 38.0 | 47 | 126 | 37.3 | 26 | 33 | 78.8 | 18 | 68 | 2.1 | 63 | 71 | 2 | 39 | 209 | 6.5 |
| 2005-06 | 33 | 33 | 1017 | 89 | 201 | 44.3 | 49 | 120 | 40.8 | 34 | 43 | 79.1 | 22 | 79 | 2.4 | 65 | 106 | 0 | 33 | 263 | 7.9 |
| 2006-07 | 37 | 37 | 1191 | 140 | 276 | 50.7 | 73 | 149 | 49.0 | 68 | 78 | 87.2 | 25 | 100 | 2.7 | 75 | 113 | 2 | 29 | 421 | 11.4 |
| 2007-08 | 34 | 34 | 975 | 124 | 251 | 49.4 | 71 | 159 | 44.7 | 46 | 58 | 79.3 | 16 | 71 | 2.1 | 52 | 88 | 1 | 28 | 365 | 10.7 |
| Totals | 136 | 136 | 4155 | 421 | 907 | 46.4 | 240 | 554 | 43.3 | 174 | 212 | 82.0 | 81 | 318 | 2.3 | 255 | 378 | 5 | 129 | 1258 | 9.2 |