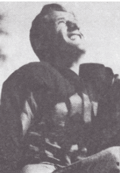 A four year star of the Georgetown football and baseball teams, basketball was an afterthought in the career of John Bozek--it's not even listed in his yearbook citation.

A high school All-American in two sports at Central High School in Manchester, NH, Bozek could have likely gone to any college in the country to play football following his graduation from Manchester Central High School in 1924, but took a different route. For reasons lost to history, he enrolled at Gonzaga College High School in the District and played three more years of high school football before enrolling at Georgetown in 1927. He is a member of the halls of fame at both Central and Gonzaga high schools.

In 1999, Bozek was named to Sports Illustrated's All-Century Team from the Granite State, alongside such names as Carlton Fisk, Mike Flanagan, and NFL quarterback Greg Landry. Of Bozek, they wrote: "Named Manchester's athlete of the first half-century; led Central High's hoops team to third in the nation in 1924, All-America in football at Georgetown."

By contrast, Bozek played in only five games as senior reserve for the basketball team, alongside his brother Emil.

At his death in 1979, John Bozek was a retired auditor for the U.S. General Accounting Office.
Season

GP

GS

Min

FG

FGA

%

3FG

3GA

%

FT

FTA

%

Off

Reb

Avg

PF

Ast

Blk

Stl

Pts

Avg

1930-31
5

Some statistics missing from this season

3
0.6
Totals
5
3
0.6