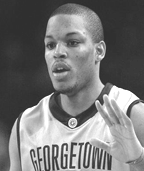 Like Ryan Dougherty and Julian Vaughn before him, Chris Wright didn't plan on being at Georgetown. Wright was a Top 20 junior who earned the rare distinction of being the first three-time All-Met selection in D.C. boys basketball since Adrian Dantley. He committed early as a junior to North Carolina State, but when Herb Sendek left Raleigh for Arizona State, Wright reopened his recruitment. On a suggestion from a fellow All-Met, Austin Freeman, Wright took a visit to Georgetown and committed to the Hoyas in October 2006. By the time he finished his high school career at St. John's, Wright scored 2,580 points for the Cadets, playing in the McDonald's All-America game (winning the three point shooting contest) and posting 19 games of 30 or more points in his high school career.

The transition to college athletics is a difficult one for any student, but Wright's development was complicated by a mid-season foot injury which lost him for the entire 2007-08 Big East regular season. With only 16 games as a reserve, his 5.7 points a game average was a step down from the success enjoyed in high school.

On November 17, 2008, Wright entered the starting lineup and scored 16 points in the Hoyas' opener versus Jacksonville, and due to injuries suffered against Cincinnati his 93rd consecutive start in the Georgetown uniform Wednesday may have been his last. Over that time, he scored in double figures 46 times, with a career high of 34 versus Harvard in the 2009-10 season, and any number of outstanding efforts that season: a 27 point effort to end Pitt's 31 game home win streak in January 2010 and a 21 point (7-7 from the field) in defeating Duke three weeks later, 89-77. During the 2009-10 season, Wright's games were a bellwether for the Hoyas--at one point, the Hoyas won 15 straight where he shot in double figures, and lost five of six when he did not.

As a senior, his leadership was invaluable for a veteran team climbing back from a 1-4 start to begin conference play. Wright's 24 point, 8-8 free throw effort helped Georgetown get past Louisville, and his 26 point, 8-8 effort at the line helped Georgetown clear South Florida a week ago. During a run following Austin Freeman's injury cast a shadow on the Hoyas' ability to get points, Wright stepped up in a big way. A leader by example on and off the court, Chris ended his Georgetown career among a select group to have worn the uniform: 17th in scoring, sixth in assists, and 13th among all guards in shooting percentage (46.1%).

Wright's goal of making the NBA was challenged in 2012, when he was diagnosed with multiple sclerosis while playing in Turkey. Many teams backed away from Wright as a result, but it did not deter him. In 2013, he earned a 10-day contract with the Dallas Mavericks, becoming the first NBA player ever to have been diagnosed with the disease. Wright currently lives in Italy with his wife and two children, where he competes in the Italian Serie A League.

"Eventually, I know the basketball will stop bouncing for me and as a father/husband, I will always look for opportunities to support us and help live a comfortable lifestyle," he told GUHoyas.com in 2017." Hopefully when my time comes to put the basketball down I can stay around the game, whether be coaching or commentating. I think I have a lot of knowledge to share with the next generation that can hopefully influence careers in a positive way."
| Season | GP | GS | Min | FG | FGA | % | 3FG | 3GA | % | FT | FTA | % | Off | Reb | Avg | PF | Ast | Blk | Stl | Pts | Avg |
| --- | --- | --- | --- | --- | --- | --- | --- | --- | --- | --- | --- | --- | --- | --- | --- | --- | --- | --- | --- | --- | --- |
| 2007-08 | 16 | 0 | 277 | 34 | 70 | 48.6 | 11 | 23 | 47.8 | 12 | 23 | 52.2 | 5 | 39 | 2.4 | 24 | 34 | 1 | 14 | 91 | 5.7 |
| 2008-09 | 31 | 31 | 1021 | 136 | 282 | 48.2 | 31 | 96 | 32.3 | 84 | 116 | 72.4 | 9 | 94 | 3.0 | 66 | 117 | 3 | 34 | 387 | 12.5 |
| 2009-10 | 34 | 34 | 1194 | 183 | 389 | 47.0 | 43 | 128 | 33.6 | 108 | 139 | 77.7 | 18 | 101 | 3.0 | 76 | 138 | 9 | 51 | 517 | 15.2 |
| 2010-11 | 29 | 29 | 950 | 121 | 292 | 41.4 | 42 | 126 | 33.3 | 90 | 115 | 78.3 | 9 | 83 | 2.9 | 28 | 153 | 3 | 41 | 374 | 12.9 |
| Totals | 110 | 94 | 3442 | 474 | 1033 | 45.8 | 127 | 373 | 34.0 | 294 | 393 | 74.3 | 41 | 317 | 2.8 | 194 | 442 | 16 | 140 | 1369 | 12.4 |