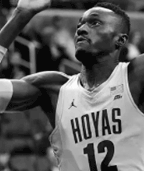 The tallest recruit in school history, 7-3 Chris Sodom saw action in just one semester of play at Georgetown.

A 7-3 center from Nigeria, Sodom migrated to Houston in 2014, playing at Houston St. Thomas and Beaumont Central before settling at Tennessee Prep, a basketball-friendly prep school. Sodom committed to New Mexico in 2016 before Craig Neal was fired at season's end, whereupon Georgetown added him in May.

Sodom was a project, scoring six points in his first three games but none thereafter. He was dismissed from the team at the close of the fall 2017 semester for what was designated " a violation of team rules".
---
| Season | GP | GS | Min | FG | FGA | % | 3FG | 3GA | % | FT | FTA | % | Off | Reb | Avg | PF | Ast | Blk | Stl | Pts | Avg |
| --- | --- | --- | --- | --- | --- | --- | --- | --- | --- | --- | --- | --- | --- | --- | --- | --- | --- | --- | --- | --- | --- |
| 2017-18 | 6 | 0 | 27 | 2 | 4 | 50.0 | 0 | 0 | 0.0 | 0 | 0 | 0.0 | 3 | 8 | 1.3 | 11 | 0 | 3 | 0 | 4 | 0.7 |
| Totals | 6 | 0 | 27 | 2 | 4 | 50.0 | 0 | 0 | 0.0 | 0 | 0 | 0.0 | 3 | 8 | 1.3 | 11 | 0 | 3 | 0 | 4 | 0.7 |