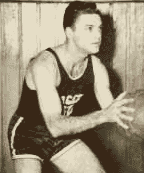 At his passing in 1973, Ben Zola was referred to by the Washington Post as "a former star athlete at Georgetown University" and "among [the] last of a diminishing breed." Years later, he is forgotten.

Zola, a lifelong resident of the District, attended Eastern High School and was a three year letterman at the Hilltop, averaging 1.9 points per game over a 43 game career. he attended, but did not graduate from the law school, and entered coaching in 1945 as head coach of Catholic University, compiling a two year record of 10-32. Zola exited from coaching but became a popular figure in the DC sports community through his work with the Touchdown Club, a local group of former athletes that hosted a charity gala each year.

In its heyday, the Touchdown Club drew over 2,000 to its annual dinner, and was a regular stop for U.S. presidents, NFL coaches, and Heisman Trophy recipients. Awardees ranged from Sammy Baugh to Brett Favre, Vince Lombardi to Joe Gibbs, and Zola often was at the forefront of the festivities. One guest list, for example, attracted the likes of Henry Kissinger, Bob Hope, Muhammad Ali, Wilt Chamberlain, Jack Kramer, Joe DiMaggio, Meadowlark Lemon, Fran Tarkenton, Abe Pollin and Johnny Bench.

It may have been Zola's local celebrity and not necessarily his career statistics that led the Georgetown University Athletic Hall of Fame to select him in its inaugural induction in 1953. His 85 career points are the fewest of any Hall of Fame recipient.

In later years, Zola owned a tavern and liquor store adjacent to Catholic University and was a car salesman for Capitol Cadillac. Following his death, the club founded the Ben Zola Award for the top basketball athlete in the region, presented in 1978 to Georgetown's Derrick Jackson, but the award fell out of favor, as did the club. The Touchdown Club was closed in 1997 and was revived in 2013, but without the star power of its heyday.


| Season | GP | GS | Min | FG | FGA | % | 3FG | 3GA | % | FT | FTA | % | Off | Reb | Avg | PF | Ast | Blk | Stl | Pts | Avg |
| --- | --- | --- | --- | --- | --- | --- | --- | --- | --- | --- | --- | --- | --- | --- | --- | --- | --- | --- | --- | --- | --- |
| 1934-35 | 18 | | | | | | | | | | | | | | | | | | | 50 | 2.6 |
| 1935-36 | 15 | | | | | | | | | | | | | | | | | | | 24 | 1.6 |
| 1936-37 | 10 | | | | | | | | | | | | | | | | | | | 11 | 0.9 |
| Totals | 43 | | | | | | | | | | | | | | | | | | | 85 | 1.9 |