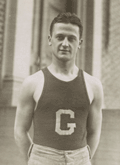 As the story goes, it was a Baltimore high schooler that held Fred Fees, the nation's leading scorer, to just one field goal in a January 1918 game, and that player was then recruited to Georgetown to join Fees in the Georgetown lineup the following fall. In the years that followed, Andy Zazzali would be a part of the early era's greatest teams at Georgetown.

Zazzali's efforts were strong throughout his career. As a freshman, he finished second to Fees in scoring , averaging 6.2 a game at the right guard position, increasing his average to 7.0 in 1920. In 1921, teaming with Paul Florence in the frontcourt, Zazzaali dominated his opponents on denfense. Over a five game period during the 1921 season, in a run which included opponents such as St. John's, North Carolina, and Georgia Tech, Zazzali's defense held opponents to an average of less than six points by halftime.

By 1922, Zazzali's time had diminished owing to injury and an attempt to bring younger players into the starting lineup. Zazzali's last second running jump shot that helped Georgetown upset kentucky won him back a starting role late in 1922, and a fifth year of eligibility in 1923 allowed Zazzali to finish his career in fitting style, leading his team with a 10.7 points per game average.

Andrew Zazzali was part of an early recruiting class that produced the likes of Jack Flavin and Paul Florence. As a group, the three palyed 44 home games and surrendered not a single loss, part of a 52 game home win streak between 1918 and 1924 that stands untouched to this day.

For his efforts in men's basketball, Andrew Zazzali was the first member of the sport to be enshrined as part of the Georgetown University Athletic Hall of Fame in 1958.
---
| Season | GP | GS | Min | FG | FGA | % | 3FG | 3GA | % | FT | FTA | % | Off | Reb | Avg | PF | Ast | Blk | Stl | Pts | Avg |
| --- | --- | --- | --- | --- | --- | --- | --- | --- | --- | --- | --- | --- | --- | --- | --- | --- | --- | --- | --- | --- | --- |
| 1918-19 | 10 | | | | | | | | | | | | | | | | | | | 62 | 6.2 |
| 1919-20 | 14 | | | | | | | | | | | | | | | | | | | 98 | 7.0 |
| 1920-21 | 14 | | | | | | | | | | | | | | | | | | | 65 | 4.8 |
| 1921-22 | 13 | | | | | | | | | | | | | | | | | | | 38 | 2.9 |
| 1922-23 | 10 | | | | | | | | | | | | | | | | | | | 107 | 10.7 |
| Total | 61 | | | | | | | | | | | | | | | | | | | 370 | 6.1 |