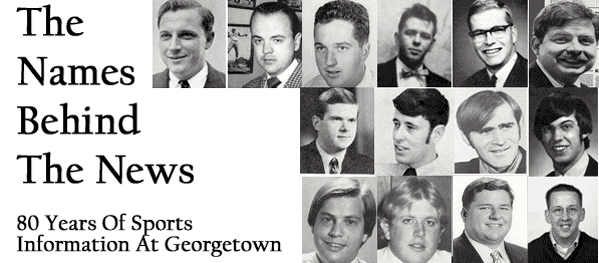 It is a job with little recognition, long hours and a constant battle to stay ahead of the news cycle. But it's also been said that no one understands college athletics like a sports information director.
"Simply put, I enjoy working with young people who are pursuing their passions and their dreams," said Michael (Mex) Carey, assistant athletic director at Georgetown and the latest in a line of sports information officials that span over 80 years at the Hilltop. "It is my job, and the job of those people in my office, to promote those accomplishments and activities, both on and off the field, in the best way possible."
Balancing the interests of promotion and publicity with the needs of disclosure and discretion, Carey and his staff not only deal with the needs of the working press to cover Georgetown's 29 intercollegiate sports, but increasingly a worldwide audience of fan and foe alike, a dimension completely unforeseen as little as a decade ago. In a time of unceasing change, they are heirs to a tradition which has transitioned through a number of changes in Georgetown athletics, and within the profession at large.
Part Two: Reviving The Sports Information Office
---
For the next four years, Georgetown had no dedicated resources to media relations and sports information. Statistics were maintained by student managers.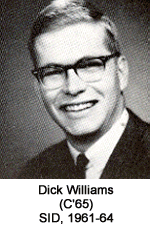 In November 1961, Dick Williams was a 17 year old freshman from Prairie Village, KS, cut from the freshman basketball team and now writing for the school paper. Georgetown took notice.

"I wrote profiles of all the incoming scholarship players for The HOYA," he said. "Jack Hagerty (athletic director) and the Rev. Robert L. Hoggson (faculty moderator of athletics) liked my work and sent me to see the legendary newspaperman, Jim Fitzgerald, who was university PR director. He liked me and hired me as Sports Information Director. They gave me an office [and I] shared a secretary with Coach O'Keefe (Betty Underwood, later to be women's hoop coach). Most important, they awarded me a half athletic scholarship."

Now known in the industry as a sports information director ("SID"), the role was tasked with writing press releases, phoning in stories to the wire services, developing news for out of town papers, maintaining statistics for a growing number of teams, and most of all, building good relations with the local press, all in what was still a one man job.

"Technically, I worked from 3:15 to 7 p.m., but the job consumed me," Williams said.

There was no time for formal training. "I had spring break coming up at my home in Kansas. I called the Kansas SID and told him my situation and asked if I could visit and learn," he recalled. "He agreed and I spent the week driving to Lawrence and watching him handle the press hordes over Gale Sayers. He had a staff of four back then."

Williams' predecessor, Bil Gilbert, was a writer in the Washington area but as Williams recalls, he wasn't very helpful. "He was a very shy guy and I could never get him to open up and help me. I always found it amazing that such an introvert could be such a great reporter."

For the next three years, Williams balanced academics with the responsibility of keeping the nation informed about the Hoyas, including the basketball team's upset of #1 ranked Loyola-Chicago, the school's remarkable success on the indoor track circuit, and the revival of intercollegiate football. Williams helped leverage a considerable amount of local coverage about football's return at Georgetown, to the consternation of Rev. Hoggson and many of the University's Jesuit leaders.

Sports information was also about maintaining good relations with the press.

"Each of the three beat reporters had his own bottle of preferred whiskey in my file cabinet," Williams recalled. "They drank it when they came to campus and I delivered them drinks in the press box as they wrote. Mr. Fitzgerald told me how to do that."

"I'm a post-script [in sports information], but it sure was fun and led to a terrific career in radio, television and newspapers," said Williams, who went on to a career as a reporter, columnist, and later the executive city editor at the Atlanta-Journal Constitution. Now a newspaper publisher in suburban Atlanta and the host of a long-running public affairs program, "The Georgia Gang", Williams has never forgotten where an opportunity at McDonough Gymnasium led him.

"I think that experience made me the fast and relentless writer I became."
---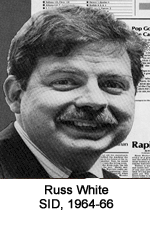 By the fall of 1964, Williams refocused on his degree plans and Georgetown went to a local journalist for its next hire. For Russ White, he knew Georgetown basketball about as well as anyone outside the Hilltop could have.
"My first Georgetown game was at the Armory in 1950," he recalled, "and my father took me to the first game ever in McDonough Gym versus Fordham." A Washington native, White attended Gonzaga College High School alongside many of Georgetown's basketball stars of the 1950's, and knew Tommy Nolan and Tommy O'Keefe when each taught at the school.
White joined the Navy after high school, and upon his return landed a job at the Washington Daily News, one of the city's two afternoon dailies, as a beat writer for the Washington Senators. The Georgetown job was largely during basketball season, so it did not conflict with his work during baseball season.
He recalled the efforts to print the basketball team's media guide, on a budget better suited to a mimeograph machine. A call to the University's print shop sealed the deal, but it still went over budget. "We got some coeds to sell the remaining copies at home games to make up the difference", White recalled.
Much of White's promotional efforts supported the men's basketball team, in good times and bad. He was there as Sports Illustrated ranked the 1964-65 Hoyas in the Top 20 for the first time ever, but the team fell out of contention and national attention waned. A year later, a possible NIT bid fell short; perhaps a result of bad press.
"I was there the night of the NYU game," said White, citing a famous 1966 game at McDonough Gymnasium where some ham-acting from the gymnasium's "Animal Section" was perceived as an anti-Semitic slur against NYU. "It didn't go anywhere until Bill Conlin [of the Philadelphia Daily News] heard about it and ran with it." Despite a 16-8 record that season, the Hoyas were not invited to the NIT.
In his years with the Daily News, and later the Evening Star, White became one of the nation's leading baseball writers, breaking the story of Ted Williams' hire by the Senators as its new manager in 1969, while the other local papers wouldn't acknowledge they'd been scooped. When the Senators left town in 1971, White covered the Hoyas during the early years of John Thompson, and served as the beat writer for the Washington Capitals at the Star from 1974 until that paper folded in 1981.
While on the Georgetown beat for the Star, White spotted a future Georgetown trademark on the new coach's desk.
"I told [SID] Fran Connors he ought to do something with the deflated basketball," said White, now retired following a number of years as a columnist for the Orlando Sentinel. The following season's media guide featured the basketball on its cover.
Russ White never went to college, but his experiences at Georgetown were a step along the road of a memorable career in sports journalism. "It was always great fun there," he said. "I loved my time at Georgetown."
---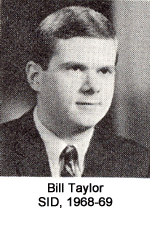 By the late 1960's, press information for Georgetown's athletic teams was reassigned under the authority of the University's public relations department. Two years after White left Georgetown to cover baseball full-time, the University hired Bill Taylor, a former sports information director at Geneva College, as its new SID in the summer of 1968, but much of his time was spent on University-wide public relations.
Taylor's tenure at Georgetown was brief. He worked on the annual media guide and prepared game releases, but little else was published about his time at the University.

In 1969, Taylor left to pursue a further position in public relations, and Georgetown took out an ad in the trade papers seeking a successor.
Answering the ad: a 26 year old Baltimore County native who was teaching high school and writing sports in western Pennsylvania.
---
"I didn't have any idea what a SID was when I lived in Pittsburgh, taught high school English and worked part-time on a six-times-weekly newspaper at the time," said Keith Moore, who served as Georgetown's SID from 1969 through 1972. "Then I spent an hour and a half with Dean Billick, who was Pitt's SID (following the legendary Beano Cook), and when he told me what he did for a living, I thought he had the greatest job in the world."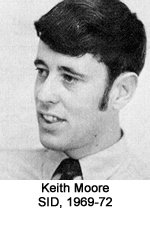 "I was hired by Art Ciervo, director of public relations, as a full-time sports information director," Moore said, becoming Georgetown's first full-time hire. "Finding a boss who came from my own part of the country made it much easier for me to get the job and to adjust to the new activities."
"My office was in McDonough Gymnasium so I was physically located within the epicenter of Hoya athletics among the coaches offices and locker rooms. In [the summer], I was given hometown news releases to write on behalf of "straight" public relations in the Healy Administration Building's offices."
Like his predecessor, the public relations office still held responsibility for Moore's work. "I had to take my typewriter-produced sports release drafts to Art for his approval and for the secretary's retyping and distribution through our mailing system," he said. The sports information role had now expanded beyond basketball, with regular demands for the school's football, baseball, track, and other teams.
"My favorite coaches to work with were in football (the late Mush Dubofsky and Scotty Glacken) and track and field (Frank Rienzo). Events that stuck out in my memory included indoor football games at Atlantic City, the Penn Relays, the Dad Vail crew races, and the Hoyas' appearance in the National Invitation Tournament at Madison Square Garden."
Through no fault of his own, coverage of women's sports received far less attention. "I had absolutely nothing to do with women's sports, including basketball," he recalled. "I certainly never had to keep their records. I never did a profile or hometown release on a woman athlete while I was at Georgetown, as far as I can remember."
"I traveled with the [men's basketball] team for road games and poached off the home team's stats crew," he said. "On road game occasions, while I was phoning the scores of the games to the news media, the team bus would wait for me. On several occasions they failed to wait, usually when we lost unexpectedly."
In the spring of 1972, friction between athletic director Robert Sigholtz and basketball coach Jack Magee spilled into the local papers, leaving Moore in the crossfire. Both eventually resigned under fire, and Moore served on the committee that eventually selected Sigholtz's successor, Frank Rienzo. A new basketball coach followed, but Moore left Georgetown later that summer following a rocky start with new coach John Thompson.
"Early in our relationship, I heard that he was fuming that the SID did not report to him," Moore recalled. "The last person on earth that he cared about was a SID who reported to a University PR Director in Healy."
"There was the night I watched the six o'clock sports on TV and saw an announcement that three of John's high school basketball stars at St. Anthony's were coming to Georgetown. I thought that might have been something JT would have shared first with his SID, but Thompson chose not to."
"I left Georgetown for another Jesuit institution, Loyola University of New Orleans," he said. "It was slightly more money, an exciting new venue in New Orleans, and a step up in the academic administration. This move was ironic, though, since I had spent almost every waking hour for the past year or two focusing on sports information -- and the university I went to wanted me to head up their public relations office…It was not a good fit, but I learned a lot during the year I was there. I learned that I could actually promote academic institutions in fields beyond sports information."
"My three years at Georgetown were wonderful for me, but my wife (by then with three children to raise) spent too much time alone and with too little money to support the family. After John Thompson arrived in 1972, I had to admit that my job was no longer much fun and it was a indeed becoming a financial challenge to overcome."
Over the next forty years, Moore became a leading figure in higher education public relations, serving as a communications director at Virginia Tech, the vice president for university relations at Carnegie Mellon, and the senior vice president for communications and marketing at the Council for Advancement and Support of Education (CASE).
---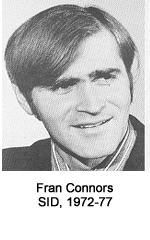 Georgetown's next hire was not only a former SID, but a second generation one. Fran Connors was a recent graduate of Providence, where his father had once served as that school's sports information director. After a year as the SID at the Coast Guard Academy, he joined the Georgetown staff following Moore's departure. In a 1972 article, Connors took an expansive look at what the job could entail.
"I'll be kind of a public relations journalist trying to bring publicity to the athletic department. But I'm not only concerned with relationships external to the University," he told The HOYA. "I see my role as that of a bridge builder between the Athletic Department and the faculty and students, as well as between the University and the community, to develop an honest rapport that will enhance the image and integrity of the University."
Connors' hopes for rapport were tested by the lines of authority within the University, which still positioned Sports Information through the public relations wing of the administration. The growth of men's basketball not only increased the interest of fans, but the interest of newspapers, radio, and TV journalists eager to cover the Hoyas and its young head coach.
Everyone wanted more of coach Thompson's time, and for the most part, Thompson wanted little or none of it, making Connors' job a challenging one.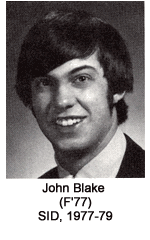 Fran Connors left Georgetown in the summer of 1977 for a post at Philadelphia Magazine and was soon hired by the National Football League.

After a long career in public relations, Connors serves as the general manager for the Dad Vail Regatta, the largest intercollegiate rowing event in the nation.

Connors' successor, John Blake (F'77), filled in as an interim hire until taking the job full time later that fall. But Blake was also hired away, joining the media relations staff of the Baltimore Orioles in 1979 and later holding executive media positions with the Boston Red Sox and Texas Rangers, currently serving as the Rangers' executive vice president for communications.
What was once merely local attention on the basketball had become regional and soon, national attention, and this took its toll on the sports information position. One person could not do it all.