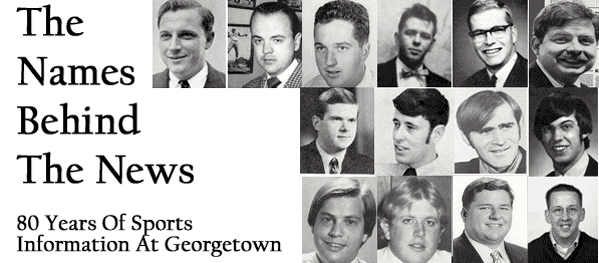 It is a job with little recognition, long hours and a constant battle to stay ahead of the news cycle. But it's also been said that no one understands college athletics like a sports information director.
"Simply put, I enjoy working with young people who are pursuing their passions and their dreams," said Michael (Mex) Carey, assistant athletic director at Georgetown and the latest in a line of sports information officials that span over 80 years at the Hilltop. "It is my job, and the job of those people in my office, to promote those accomplishments and activities, both on and off the field, in the best way possible."
Balancing the interests of promotion and publicity with the needs of disclosure and discretion, Carey and his staff not only deal with the needs of the working press to cover Georgetown's 29 intercollegiate sports, but increasingly a worldwide audience of fan and foe alike, a dimension completely unforeseen as little as a decade ago. In a time of unceasing change, they are heirs to a tradition which has transitioned through a number of changes in Georgetown athletics, and within the profession at large.
Part One: Sports As Publicity
---
From its earliest days, the story of intercollegiate athletics was told on the pages of newspapers. With as many as five dailies competing for readers in the Nation's Capital, a rough and tumble account of a college football game, accurate or not, was sure to sell papers.
By the mid 1920's, radio had arrived in a big way, bringing stories of college football nationwide. Local columnists regaled their readers with tales of young men at faraway places like Stanford, Alabama, and Illinois. Few outside the Midwest ever saw Red Grange play, yet he was a larger than life star in the Eastern cities. Schools like Georgetown now had competition for coverage in their own local papers.
At first, colleges saw the need for "press agents" to drive newspaper coverage as a little unseemly. But when Harvard and Notre Dame added publicity directors to manage the growing attention given to their teams, other schools followed suit.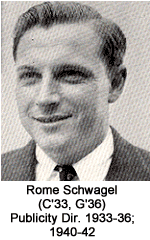 The first recorded hire to manage athletic coverage was at Georgetown in 1933, when moderator of athletics Rev. John Kehoe S.J. appointed Rome Schwagel as its first "director of sports publicity". A recent graduate of the College who wrote for The HOYA and served as a manager for the school's basketball team, Schwagel was considered knowledgeable about the teams and young enough to take on the job as a seasonal pursuit. Part-time employment was nothing new to Georgetown athletics (the Hoyas' first full time head coach in men's basketball did not arrive until 1966) and a part-time role for sports information would be a common theme for most of the next 35 years.
"Rome graduated in 1933 and immediately assumed his present occupation, experiencing a little difficulty at first because of his youth and the newness of his contacts," said a contemporary feature. "Since then, he has developed rapidly and is today one of the best publicity men in the business."
Publicity was not Schwagel's first calling, however, and when he completed his graduate studies, he accepted a job offer with General Motors. But with Georgetown's football program ascending nationally, Schwagel was hired back in to manage the publicity surrounding the school's nationally ranked football team, and two years later was named the school's athletic director, shortly before being drafted into military service.
Schwagel returned to the athletic director's chair after the war, serving through 1948. After Georgetown, Schwagel went into business in Keedysville, MD, later serving as that town's mayor and a county commissioner.
The needs of publicity for the Hoyas' football program remained strong, however. After a season enlisting a Georgetown professor, John Shields, to handle publicity duties, the athletic department found a recent grad ready to take on the task.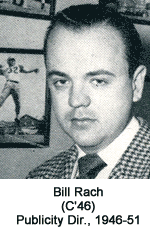 For Bill Rach (C'46), publicity was in his blood.
Over a forty year career as a publicist, promoter and entrepreneur, Rach learned his trade at the Hilltop. A writer for The HOYA and College Journal while an undergraduate, Rach also learned the value of promotion, getting the Jesuits' approval to start a college orchestra, then booking the ensemble at numerous dances all across wartime Washington. Polite yet persistent, Rach had all the qualities of someone ready for the task at hand.
With no room for an office at Ryan Gym, Rach began his work in the basement of Copley Hall, armed with a typewriter and a telephone. That was more than enough for the 22 year old Chicago native, who worked the phones to secure All-America honors for Georgetown athletes in the press and marshal national publicity for the Hoyas in football, where the Hoyas earned an invitation to the 1950 Sun Bowl despite a tepid 5-4 record. Rach was the first publisher of annual media guides at GU, giving visiting sportswriters historical data on the program where little had existed before.
Rach was in soon in demand as a sports publicist. In 1951, he was hired to become the full time publicity director for the Professional Golfers Association. Following eight years at the PGA, Rach became an entertainment promoter, agent, and publicist, a familiar face at various Chicago sports and entertainment events until his death in 1994, with a keen eye for promotion that began in his formative years at Georgetown.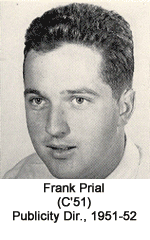 Georgetown appeared to find a worthy successor in Frank Prial (C'51), who was named to the publicity director's post following Rach's departure. Military service intervened, however, and Prial left Georgetown only a year later. Following the war, he became a reporter for the Newark Evening News, New York World-Telegram, and Wall Street Journal, later serving as the much-acclaimed wine columnist for the New York Times from 1972 through his retirement in 2004.
"You don't have to be a baseball fanatic to read a story about a great player or a particularly exciting game," Prial once said. "You should not have to be a budding enologist to enjoy reading about wine."
With the loss of intercollegiate football in 1951, athletic publicity was on the wane at Georgetown. The job was now limited to basketball season, with plenty of free time for an applicant to pursue graduate studies or a part-time job. One of these applicants, Bil Gilbert (F'51), saw the position as an opportunity to develop the writing skills that served him over a career as one of the nation's most accomplished sports journalists.
For the next five seasons, the basketball publicity job allowed Gilbert the freedom to write sports and indulge a lifelong passion for the great outdoors in the off-season. Both suited him well.
"Early on I thought this writing thing was pretty good…. I wanted to do what I wanted, when I wanted, where I wanted, with someone else paying for it. And writing seemed like the best idea," he said in a 1986 article. By then, Bil Gilbert was well known across the parade of long-form journalism, from Time to the Saturday Evening Post, the New York Times to Esquire. At his death in 2012, Gilbert had written over 350 articles and published ten books. He traveled extensively for Sports Illustrated, filing stories as varied as the challenges of Title IX in NCAA sports, a high school football game in Mississippi, or a canoe trip along the Susquehanna River.
In 1980, Gilbert wrote a 6,900 word feature in Sports Illustrated on Georgetown basketball, titled "The Gospel According To John". Gilbert had long seen the program up close, but gave its 39 year old head coach the opportunity to introduce himself to a national audience.
"What I want, is everything," coach John Thompson told Gilbert.

"I want the talent, a kid who can run and leap and shoot, but I want him to have enough intelligence, discipline, character, or whatever, so that he'll walk when I tell him to, run when I want him to, pass if that's what I want. Without talent, all the character in the world won't do it, but talent alone isn't enough. There are great individuals and teams with lots of talent who don't win. I tell the kids that it's as though we're putting on a play. I'm the director. I'm going to pick the script, and I'm going to give them their roles. They're the actors. Their job is to learn those roles-that's what practice is about. When we go out on the court, that's our stage. Out there they're supposed to perform as we practiced. I don't want anybody making up new lines, putting on their own act."
"For now, though, Thompson remains at Georgetown," Gilbert concluded, "giving the school the basketball success it wants, getting what he wants from the young men he has recruited, giving them what he convinced them they wanted from the bargain: hard work and a good education. And a little more. Maybe a lot more."
Gilbert's 1957 departure from McDonough Gym marked a logical end to the era of publicity directors at Georgetown-by this time, there wasn't much to publicize. But as more sports arrived on the campus scene, and one in particular, the need to keep the media informed returned in a big way.