History & Tradition: John Schmitt
Basketball letterman, 1937-40
Note: In 2009, this site had the privilege of interviewing the oldest living member of the Georgetown basketball family, John Schmitt (C'40).
---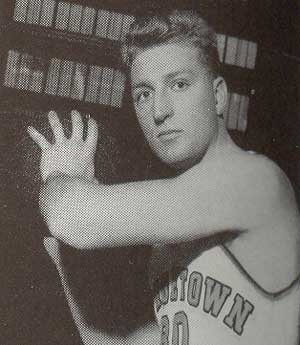 As today's college seniors await an uncertain job market, it helps to take a longer view.
Ninety-two year old John Schmitt can relate. His first job out of Georgetown paid only 60 cents an hour.
"General Motors didn't have an office job for me, so I worked in the plant", said Schmitt, who graduated from the College in 1940 and returned home for a job at the local GM plant that summer. "Sixty cents an hour, $24.00 a week," he laughed.
Schmitt's home town was Syracuse, NY and he has been there ever since. His family is planning for him to return to visit Georgetown this February, 70 years after a college career that is still memorable today.
"I wasn't much interested in sports growing up," said Schmitt, whose recall of names and dates is closer to a man two decades out of college rather than seven. In his younger years, Schmitt worked at his father's meat market, and was not introduced to organized sports until the 8th grade. He soon became a standout in baseball and basketball at St. John the Baptist High School, and was drawn to Georgetown by the offer of an athletic scholarship. Over his four years, Schmitt was coached by four legendary coaches in Hilltop athletics: Jack Hagerty, Fred Mesmer, Elmer Ripley, and Joe Judge.
Schmitt's first intercollegiate play sport came about almost by accident. Since freshmen were ineligible in this era, Schmitt was planning to play basketball as a sophomore when he was suddenly called up to the varsity football team in the fall of 1937, despite having not played the sport, since his high school didn't have the equipment during the Great Depression to field a full team.
So why did he play in college? "Well, they didn't have enough recruits that year," Schmitt said. He explained that after three Georgetown starters were injured in a pre-season scrimmage with the city's new pro team, the Washington Redskins, coach Jack Hagerty called up sophomores from other sports into service. Schmitt lettered in 1937 as a running back, but his legacy was on the court and the diamond.
Schmitt was a three year letterman for the varsity basketball team from 1937 through 1940, earning the honor of team captain his senior year. Recruited by Syracuse native Fred Mesmer (C'30, L'32), Schmitt recalled being intimidated by the college game. "Mesmer had a lot of confidence in me," said Schmitt, who soon became a standout forward over his three seasons, recalling opponents as if they were played yesterday: "Penn State, West Virginia, George Washington, Yale, NYU, and Maryland", he said.
Schmitt added that in his day, Georgetown played in the Eastern Intercollegiate Conference (EIBC), a forerunner to the Big East whose teams included Pittsburgh, West Virginia, Penn State and Carnegie Tech. He recalled competing against the legendary Red Auerbach, who then played at crosstown rival George Washington. "Mesmer was good friends with the GW coach, and they arranged the games," he said.
(In later years, Schmitt's grandson recalled wondering why his grandfather referred to having played a famous coach named "Arnold", later to learn that Auerbach's given name was Arnold.)
In 1939, now under the tutelage of Hall of Fame Coach Elmer Ripley, Georgetown were named EIBC co-champions, and Schmitt recalled a 12 point scoring game in an upset of West Virginia, a fine effort in an era when teams might only score 35 or 40 points a game.
"Elmer Ripley was a very good coach," he said. "He was instrumental in teaching the fundamentals of the game."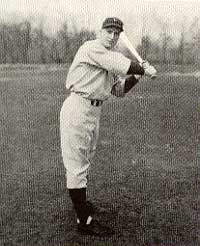 A game with Penn State, 70 years ago, brought back clear memories.
"Penn State was a very well regarded team due to their zone defense," Schmitt said. To beat the zone, "Ripley loaded one side of the court and we passed and cut to the basket, and got open set shots."
"Beat 'em by nine," he added.
Schmitt's junior season was cut short two weeks later, when he suffered a leg fracture leg in a game versus Yale. He returned later that spring to baseball and batted .400, a record which he looks back fondly. Over his three seasons, the Hoyas were 28-9 (.756), a three year record of performance matched only once by the Hoya nine in the last 70 years.
A hot-hitting center fielder that was quick on the base paths, Schmitt once stole three bases in a single game and attracted the attention of scouts familiar with Joe Judge, the Georgetown coach and former major league star. Scouts from the New York Yankees and Connie Mack's Philadelphia A's showed interest, but the leg injury was Schmitt's undoing. He explained that he powered off his leg while batting, and the injury limited his motion when hitting.
"[Yankees scout] John Hattick offered me a place at a Class D team [in the Yankees' minor league system], but it didn't pay very well," he recalled, and Schmitt completed his baseball career in college, not in the minor leagues.
The world of a student-athlete at Georgetown was very different in the late 1930's, where attending college on an athletic scholarship was a privilege few enjoyed in the Great Depression.
"Room check was 7:00 pm, you studied from 7:00-9:00, got a break, and lights out at 10:00," said Schmitt, who lived in Old North and New North over his college years. Athletes were expected to work on campus to cover their scholarship costs, and Schmitt remembered delivering laundry and waiting on tables at Ryan Hall alongside Georgetown Hall of Famer Al Blozis. The 6-6 Blozis, two years behind Schmitt, was already well known on campus. He was "a great person," Schmitt recalled.
Coats and ties were required for students at meals, remembers Schmitt. "These were rules to follow, not to break," he said.
Athletes got no special privileges by the faculty of the day, most of whom were Jesuits. "If you got in trouble, you were going home," Schmitt recalled. "If you didn't come prepared to class, you were gone."
Schmitt fondly recalled history classes taught by Rev. Daniel Power, S.J., his encounters with prefect of discipline John Kehoe S.J., and athletic director Vincent McDonough S.J. Schmitt once asked Rev. McDonough why Georgetown didn't offer a training table for athletes as other schools did. McDonough remarked, "You are all old enough to control your own eating and training" without such a program.
After Georgetown, Schmitt served only a few weeks on the floor of the auto plant before being promoted to a management position, where he served for 34 years until his retirement from the auto maker in 1974. Reclassified for military service for duty in the Pacific theater in 1945, Schmitt had already married and was raising a family, so the Army chose to release him back to the plant instead, which had converted from producing cars to machine guns for the war effort.
"So that was the end of my military career," he remarked.
Outside his work at GM, Schmitt played in the New York industrial basketball leagues of the 1940's, before the advent of the NBA, and coached various parochial school teams in and around Syracuse, including a state champion team in 1957. His grandson recalled how Schmitt can still watch basketball games on television and remark on the plays run and the strategies employed, recalling the essentials of a game he learned from the likes of Fred Mesmer and Elmer Ripley.
Seventy years has passed since John Schmitt walked across Healy Lawn for his college degree, but the lessons learned over those four years formed a foundation for a lifetime of accomplishment far removed from the playing fields.
"Georgetown taught you how to improve yourself, year after year," he said. It was a lesson well learned.
---
Postscript
John Schmitt was not able to visit Georgetown as noted above. In the years following the loss of his wife, Schmitt's health faltered and he passed away in 2012 at the age of 94. His obituary tells the story of a life well lived:
John was a lifetime resident of the Syracuse area. He was the son of the late John and Margaret Schmitt. He was a graduate of St. John the Baptist and Georgetown University. He retired from General Motors in 1974, after 33 years of management service. John was predeceased by his loving wife of 67 years, Ann M. (Glynn) Schmitt; his sister, Ruth Patchett; and his brother, Robert Schmitt. He is survived by his daughters, Beverly Buettgens of Marietta, NY, Jeanne Rhodehamel of Liverpool, NY, and Mary Jo Mellone of The Villages, FL; his son, John S. Schmitt Jr. of North Syracuse, NY; 11 grandchildren; 11 great-grandchildren; his sister, Doris Murphy; brothers, Raymond Schmitt and William Schmitt; sister-in-law, Jane Glynn; as well as several nieces, nephews and cousins.

Sports were always an integral part of John's life. At Georgetown he lettered in three sports, excelling in baseball and basketball. Noteworthy, in 1940, as the Hoyas' team captain, he played in the first ever televised collegiate basketball game at Madison Square Garden. After college, he played semi-pro baseball and basketball for two years, then in many Syracuse recreational leagues. He coached basketball at Assumption Academy from 1942 through 1958. He was named coach of the year by the Syracuse sports writers in 1956. In 1957, the team had the honor of winning the NY state parochial league championship. After his retirement, he began playing senior slow-pitch softball with the Syracuse Senior Cyclones. At the age of 84, his division won the 2001 seniors slow-pitch World Series."
"Grandpa's passions were his faith, family and his Hoyas Basketball," wrote his grandson, Steven Kresco, who helped arrange the interview.
The photos below were shared from his family for this site to remember John S. Schmitt, class of 1940, a true gentleman of Georgetown.