History & Tradition: Mary Fenlon
The conscience of Georgetown basketball.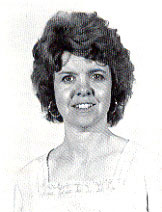 John Thompson's first hire when becoming men's basketball head coach at Georgetown wasn't an assistant coach or a recruiter, but an academic coordinator. Mary Fenlon, a teacher at St. Anthony's High School in Washington, was brought on in the spring of 1972 to do what few coaches had the time or patience for--to oversee the academic development of the team. Although Fenlon variously served as a receptionist, secretary, office administrator and executive assistant within the athletic department, her presence on the Georgetown bench from 1972 through 1999 was a visible symbol of the academic commitment Thompson and Georgetown were prepared for.
"A woman assistant coach might bring a little class to college football...it turns out that Georgetown University Basketball Coach John Thompson already has a woman assistant and says she is performing splendidly," wrote Sports Illustrated in 1973. "So far, Mary Fenlon has concentrated on supervising the academic affairs of players, securing tutoring, keeping tabs on their progress and generally advising them, although she does attend practices and coaching meetings and travels with the team on road trips. "I couldn't tell you the difference between a point and a pivot," Miss Fenlon admits, but that has its advantages..."When I was at the coaches' convention in St. Louis, they'd eye me suspiciously on the elevator and they would invariably ask me if I actually coached. When I explained what I did, they'd smile. It seemed to make them feel better that I wasn't a threat."
Fenlon was tough and uncompromising, whether it was an untested freshman or a potential All-American. While that was not well received by some (there is a well-told story about how recruit Grant Hill opted not to go to Georgetown after meeting Fenlon), her fairness was without question--everyone was held to the same standard.
"Her job was a vital part of the success of the program and I have great respect for the fact that she never sacrificed effectiveness in the interest of popularity," said Thompson. "She has the strength of character to do what is right regardless of what people say about it. "
Fenlon gave no substantive interviews in the press over her tenure, and none in retirement. The 1993-94 and 1999-00 media guides offered a series of brief reflections from former players on their recollections of her work and her impact:
"It's really difficult to explain how big a role Miss Fenlon played in my life. Being away from home and my parents for four years, she helped me to grow up and understand that after high school you have to take responsibility. She also helped me a lot by taking the time to explain how things work in America, in school and even with Coach Thompson."
--Dikembe Mutombo I'91, H'10

"Miss Fenlon taught me about responsibility. She can be very strict and no-nonsense, but she is also very supportive. She is the person who will give it to you straight from the shoulder if you ask her for advice, but she wouldn't tell anybody else your business for any reason. I learned a great deal from her, even when she was laying down the law, particularly about accepting responsibility for myself."
--Brian Kelly C'92

"Miss Fenlon played a major role in my development. When a kind word needed to be said, she said it and if a harsh word was needed, she said that too. She was like a mother in some ways- she cared enough about you to tell you what you didn't want to hear, but what you needed to hear."
--Patrick Ewing C'85

"Miss Fenlon was a significant presence. I didn't have a problem academically, but I always knew she was there if any problem did develop. She was tremendously accessible because everywhere you turned she was there. After leaving Georgetown and playing in the NBA, I got to compare college experiences with other players. The availability of Miss Fenlon and Coach Thompson, the fact that the entire staff was always right there, was something that players from other schools had not experienced."
--Michael Jackson C'86

"I think that in college athletics there are some very high quality programs for combining demands for academic and athletic excellence and I think Miss Fenlon provides the balance and quality control at Georgetown. In my mind she maintained the high standards on the academic side by insisting that everyone do what they were supposed to. Although she initially impresses you as very direct and non-flowery as time goes on you come to realize that she is incredibly gracious and kind and genuinely concerned with the students' development."
--Kurt Kaull C'83, L'89

"Miss Fenlon and I started out on the wrong track. When I first came to school I didn't want to take easy 'basketweaving' courses, but I thought that, as an athlete, I might be placed in some. (Little did I know that Georgetown doesn't offer turkeys.) When Miss Fenlon started talking about classes, just trying to help, I already had a chip on my shoulder and told her I wasn't interested in basketweaving. This was not the best of beginnings. As time went on and I did some growing up, I came to recognize that she had my best interest at heart. When I hit some rough patches as a junior and senior she was significant in getting me through. I have great respect for her strength of character and refusal to compromise as a teacher.
--Fred Brown C'84

"Looking back after graduation I recognize how much Miss Fenlon's methods helped me over the rough spots. I know now, and I guess at some level I knew then, that she genuinely cared about me and wanted me to get more from my time at Georgetown than I expected."
--Alonzo Mourning C'92

"After a few years in the program I came to recognize that she is a caring, concerned person who looks out for her students' best interests. You've got to respect her being strong enough to seem mean in order to get us to do what's right."
--Jahidi White C'98

"As demanding as Coach Thompson was, Miss Fenlon was more demanding, but at the same time, she put everything in perspective. She was the one who pointed out how foolish it would be for one of us to hurt the school, the program or Mr. Thompson when Mr. Thompson was doing everything he could for us. Now most players would hesitate to admit this, but they would much rather deal with Coach if there was a problem than with Miss Fenlon because if there was a problem it was because you hadn't done what you were supposed to and she didn't have a lot of patience with that foolishness. I think her perspective was best summed up when Miss Fenlon and Coach Thompson told me at my first interview, Georgetown can do a lot more for you than you can ever do for Georgetown. Her job was to see that we kept that in mind."
--Ronnie Highsmith C'88
In the 1999-00 media guide, Fenlon did offer these brief words of reflection over her career. "I'll miss the students, of course, but mostly I'll miss watching them grow from tentative freshmen to mature, competent graduates," she said. "That was the greatest reward of my work and the thing I wanted most for my students."