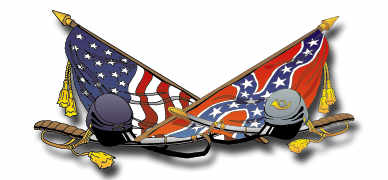 Of over 1,100 Georgetown students and alumni that fought in the Civil War, 117 died in battle, among them Gen. Lewis A. Armistead (C'1837), who was killed at Gettysburg.
History & Tradition: The Colors
Georgetown's blue and gray.
Georgetown's colors are blue and gray. The colors were selected in 1876 by the Georgetown College Boat Club in honor of Georgetown students and alumni who wore the Union blue and Confederate gray in the Civil War.
The war nearly closed the College. Enrollment dropped from 363 to 17. A majority of the students were from the South; an 1861 petition to the school read as follows: "Our presence here any longer would be attended but with little good to us, for we are giving utterance to a plain and undisguised truth when we say that there is not one amongst us who is now able to devote that time, interest, energy and requisite spirit to the pursuits of the class, which our parents, our friends, our teachers and yourself, Reverend Sir, have just and reasonable claims in expecting of us; while all we have most dear on earth, our Country (the South), our parents and our brethren call loudly upon our presence at our respective homes. It is scarcely necessary for us to inform you that we should desire the same favor for all the Students of the College; and were it possible, we earnestly demand of you a suspension of the College until September. That such a step would be prudent, the general aspect of affairs manifestly proves. That civil war is at hand, and may at any moment fall among us with all its horrors, and when we are least prepared to protect ourselves against its dangers, most certainly cannot escape your observation. We are all old students and would not willingly hazard the opportunities so generously proffered by the faculty for the reception of the benefits and blessings of Education; and were it not for causes so pressing, never should we have hesitated to continue among those who have always shown themselves industrious and interested in what they deemed advantageous to us. But circumstances which are rendering the danger of longer stay, daily more palpable and imposing, force us to think seriously of our personal security."
A decade later, the colors would return as a means of unity.
As recounted in a history of the crew by Lawrence H. Cooke, distinctive colors were important in watching crew races, since fans on shore wanted to know their team's location in the race. Harvard's crimson and Penn's red and blue were already well known, but Georgetown had no such colors to call its own. A student committee declared Blue and Gray "as appropriate colors for the [Boat] Club and expressive of the feeling of unity between the Northern and Southern boys of the College" and recommended its adoption for the team.
Soon thereafter, a banner was presented to the College by the Boat Club, sewn by the girls of the nearby Georgetown Visitation school. Half blue and half gray, it bore the inscription Ocior Euro ("Swifter Than The Wind").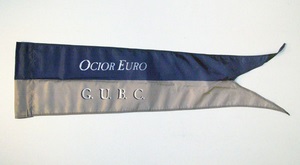 The banner and its colors quickly became a part of college life. Student gatherings and formal University occasions both prominently featured the colors. By the time football teams were involved in varsity play, the Blue and Gray were already a Georgetown tradition.