History & Tradition: Rich Chvotkin
The voice of the Hoyas.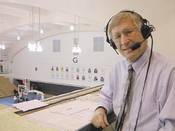 "Hopkins with the rebound, the outlet pass to Bill Thomas, across court to Derrick Jackson, five seconds left...Jackson from the corner, the shot...IT'S IN!"--Rich Chvotkin, ECAC championship final, March 8, 1975
Seven radio stations and 36 years after his debut on Nov. 30, 1974, Rich Chvotkin is the signature voice of Georgetown Basketball.
Rich Chvotkin's path to radio play-by-play was anything but typical. Growing up in Scranton, his career was not in broadcasting, and arrived in Washington in 1972 as a psychologist at Walter Reed Army Hospital.
In the 1973-74 season, I went to some Georgetown games, and I saw they didn't have any radio," Chvotkin told The HOYA in 2005. "And I said, 'Well I used to do this in undergraduate school [at the University of Scranton], and maybe I'd try to get back into it.' So what I did was, I went to Fran Connors, who was then the Sports Information Director, and made a few tapes sitting up in the stands with a tape recorder. Then they gave it to Thompson, and obviously he liked it."
After WAVA-FM passed on a chance to broadcast the games, a small station known as WOOK-AM picked up the Hoyas in the fall of 1974 with its new voice.
"In that year, prior to the start of the season, we had to actually go out and sell it," Chvotkin told The HOYA. "So I sold the advertising, wrote the commercials and read the commercials on the air."
Chvotkin's untiring passion and commitment to Georgetown basketball is well known, from the extensive travel in the early years to having broadcast 16 straight Big East tournaments in their entirety back to Washington--whether Georgetown was playing or not. He's also somewhat unique among broadcasters in that he has been announcing games solo--without an analyst-- since 1986.
"There's plenty to say," Chvotkin told the paper. "You never run out."
Among the highlights of Chvotkin's tenure (through the 2010-11 season):
He has broadcast nearly half of the entire history of games in Georgetown basketball (1,163 and counting). Chvotkin's streak is not continuous, however, as he was called to military service during the 1990-91 season as part of Operation Desert Storm.

He has broadcast games from 38 states, Canada, and Puerto Rico.

He has broadcast 109 Georgetown games from Madison Square Garden alone. Including his wall-to-wall Big East tournament coverage in the 1980's and 1990's, he has broadcast over 200 games back to D.C. from the Garden.

He has broadcast 98 post-season games (66 NCAA, 24 NIT, and 8 ECAC), and games involving 165 different Georgetown players and 55 different Big East coaches.
"I don't think anybody envisioned this," Chvotkin told the Washington Post in 2005. You knew that [John Thompson] was on the rise, that they were going to improve. You knew his program was on the rise," he said. "What great times. What heartbreak, too."
Two generations of Georgetown fans have followed the radio coverage over the years, and have grown to appreciate Chvotkin's nuances in the broadcasts (such as the 'liftoff' and 'vesper' halves of play, a break in the action as 'the scoreboard clock arrests', as well as in-game phrases such as 'the hoop and the harm', the 'muscle tussle', the 'snowbird', et al.) With the arrival of online broadcasts in the late 1990's, Georgetown fans as distant as Beijing and Dar Es Salaam awaited Chvotkin's signature call..."Hoyas Win!"
Now, and for many years to come.
(Photo courtesy Connection Newspapers)