On Feb. 10, 2007, results were announced from an online poll to select a 25 man All-Century team for the first 100 years of Georgetown Basketball. The team is listed below.
(Note: The All-Century list is separate from the Top 100 List posted at this site during the 2006-07 season, below.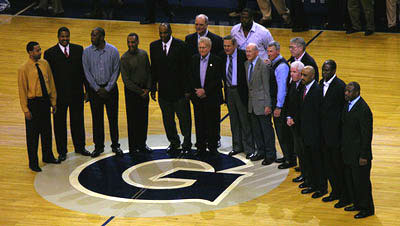 The All-Century team, front row: Charles Smith, Fred Brown, Eric Floyd, Derrick Jackson, Craig Shelton, Brian Sheehan, Dan Kraus, Tom O'Keefe, Jim Christy, Jim Barry, Jim Brown, Michael Jackson, Reggie Williams, John Duren. Top row: Charlie Adrion, Patrick Ewing. (Photo by Dan McQuillen)
In addition, the centennial group named an additional number of players to the All Century team as honorable mention recipients, based on fan support in the online poll. Congratulations also go to the following:
Fred Rice (1907-10)
Don Dutton (1927-30)
Fred Mesmer (1927-30)
Joe Murphy (1936-39)
Buddy O'Grady (1939-42)
John Mahnken (1942-43)
Andy Kostecka (1942-43; 1946-48)
Barry Sullivan (1950-52)
Lou Gigante (1951-54)
Joe Missett (1954-57)
Paul Tagliabue (1959-62)
Steve Sullivan (1964-67)
Mike Laughna (1969-72)
Jon Smith (1972-76)
Merlin Wilson (1972-76)
Eric Smith (1978-82)
Bill Martin (1981-85)
Mark Tillmon (1986-90)
Jerome Williams (1994-96)
Kevin Braswell (1998-02)
The Top 100 List
From September 15, 2006 through Feb. 9, 2007, one hundred of the leading names in Georgetown University basketball were saluted on these pages in anticipation of the 100th anniversary of the sport, one announced each weekday in the 100 days leading up to the anniversary weekend.
Players were selected based on a number of objective and subjective criteria, including statistical records, their impact upon the program at the time of their play, and the individual records set during their career. The overall goal was to honor the efforts of many generations of players for their contributions to the history of the men's basketball program at Georgetown.
1. Patrick Ewing (1981-85)
2. Eric Floyd (1978-82)
3. Reggie Williams (1983-87)
4. Alonzo Mourning (1988-92)
5. Allen Iverson (1994-96)
6. John Duren (1976-80)
7. Craig Shelton (1976-80)
8. Jim Barry (1962-66)
9. Derrick Jackson (1974-78)
10. Mike Sweetney (2000-03)
11. David Wingate (1982-86)
12. Charles Smith (1985-89)
13. Othella Harrington (1992-96)
14. Michael Jackson (1982-86)
15. Mike Laughna (1969-72)
16. Dikembe Mutombo (1988-91)
17. Merlin Wilson (1972-76)
18. Mark Tillmon (1986-90)
19. Bill Martin (1981-85)
20. John Mahnken (1942-43)
21. Victor Page (1995-97)
22. Fred Fees (1916-20)
23. Jerome Williams (1994-96)
24. Charlie Adrion (1967-70)
25. Andy Kostecka (1942-48)
26. Dan Kraus (1942-48)
27. Brandon Bowman (2002-06)
28. Kevin Braswell (1998-02)
29. Jim Brown (1963-66)
30. Perry McDonald (1984-88)
31. Joe Missett (1954-57)
32. Jonathan Smith (1972-76)
33. Art White (1969-71)
34. Steve Sullivan (1964-67)
35. Jim Christy (1961-64)
36. Bill Bolger (1950-53)
37. Eric Smith (1978-82)
38. Brian Sheehan (1958-61)
39. Gerald Riley (2000-04)
40. Robert Churchwell (1990-94)
41. Ed Hargaden (1932-35)
42. Warren Buehler (1953-57)
43. Paul Tagliabue (1959-62)
44. Joey Brown (1990-94)
45. Jim Carrino (1959-62)
46. Tom O'Keefe (1946-50)
47. Dwayne Bryant (1986-90)
48. Fred Brown (1980-84)
49. Jaren Jackson (1985-89)
50. Bob Sharpenter (1959-62)
51. Ashanti Cook (2002-06)
52. Ruben Boumtje-Boumtje (1997-01)
53. Barry Sullivan (1950-52)
54. Dennis Cesar (1965-68)
55. Al Dutch (1975-80)
56. Frank Schlosser (1908-12)
57. Jim Supple (1966-69)
58. Tom Coleman (1958-61)
59. Hugh Beins (1950-53)
60. Frank Hollendoner (1964-67)
61. Bill Lynn (1972-76)
62. Ken Pichette (1955-58)
63. Bruce Stinebrickner (1965-68)
64. Steve Martin (1975-79)
65. Michael Graham (1983-84)
66. Mike Petrosky (1935-38)
67. Anthony Perry (1998-01)
68. Gene Smith (1980-84)
69. Billy Hassett (1942-43)
70. Boubacar Aw (1994-98)
71. Darrel Owens (2002-06)
72. Nat Burton (1997-01)
73. Ray Corley (1946-49)
74. John Gibbons (1963-66)
75. Ed Hopkins (1974-78)
76. Bob Nork (1924-28)
77. Don Reid (1991-95)
78. Matt White (1954-57)
79. Tom Matan (1958-61)
80. George Butler (1993-95)
81. Owen Gillen (1963-65)
82. Jack Flavin (1918-23)
83. Fred Mesmer (1927-30)
84. Andrew Zazzali (1918-23)
85. Don Dutton (1927-30)
86. Tom McCloskey (1957-59)
87. Horace Broadnax (1982-86)
88. Lou Gigante (1951-54)
89. Don Weber (1968-71)
90. Ed Spriggs (1978-82)
91. Paul Florence (1920-23)
92. Joe Murphy (1936-39)
93. Jahidi White (1994-98)
94. Buddy O'Grady (1939-42)
95. Roy Waldron (1911-14)
96. Mike Hancock (1978-82)
97. Larry Long (1973-77)
98. Bill Bornheimer (1940-42)
99. Harry Bassin (1935-38)
100. Fred Rice (1907-10)