Georgetown Basketball History: Head Coaches

(For information on prior assistant coaches, visit this link.)

1. Maurice Joyce
1907-1911; Five seasons, 34-22 (.615)
(No Prior College)
Maurice Joyce held a number of jobs over his career, ranging from a circus trapeze artist to that of a commissioned United States Marshal, even taking on a federal post to teach the art of boxing to President Theodore Roosevelt. Yet he is best remembered as the man who introduced the sport of basketball to Washington in 1892, helped organize college programs at Navy and Virginia, and served as Georgetown's first coach from 1907 through 1911.
Despite leaving coaching at the age of 50, Joyce was not the retiring type. Joyce went on to serve as a special agent for the Department of Justice for 22 years before retiring in 1933. Joyce died in 1939 at the age of 78.
---

2. James Colliflower
1911-1914, 1921-1922: Four seasons, 43-20 (.683)
Alma Mater: Georgetown, 1906
If Maurice Joyce founded basketball at the Hilltop, Colliflower kept it going, in the face of deficits and squabbles between the College and the Law School. A letterman during his three years of law school, Colliflower coached for four years. When Georgetown offered a full time coach in John O'Reilly, Colliflower retired from the post and returned to his coal delivery business. A decade later, Colliflower coached the program without pay during a year long illness suffered by O'Reilly.

A noted alumni volunteer for over than a half century, Colliflower was awarded an honorary degree by the University in 1963.


---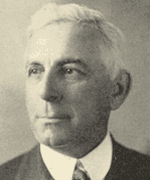 3. John O' Reilly
1914-1921, 1923-1927: Eleven seasons, 87-47 (.619)
Alma Mater: Unknown
A head coach over three sports (basketball, track, and baseball), John O'Reilly led Georgetown to some of its greatest early triumphs in basketball, including a 52 game unbeaten streak in tiny Ryan Gymnasium.

A two year hiatus due to illness brought an interruption to his tenure, but O'Reilly returned to coach basketball through 1927 and the baseball and track programs through 1931.



---

4. John (Jackie) Maloney
1922-1923: One season, 8-3 (.727)
Alma Mater: Georgetown, 1918
The second year of O'Reilly's illness brought freshman coach Jackie Maloney to the helm, who completed an abbreviated season with a 8-3 mark.
Maloney, a quarterback with the Hoyas in the late 1910's, also coached the Georgetown football team in the fall of 1923 before Penn all-American (and future Hall of Famer) Lou Little arrived at Georgetown in 1924.


---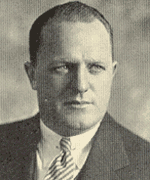 5. Elmer Ripley
1927-1929; 1938-1943; 1946-1949: Ten seasons, 133-82 (.619)
Alma Mater: Brown, 1913
Member, Basketball Hall of Fame
A legendary figure in basketball, Elmer Ripley left Brown for a pro career at the age of 19, and was a member of the "Original Celtics" clubs during the early 1920's. In 1927, while being pursued by George Preston Marshall's "Washington Palace Five" pro team, Ripley was hired to coach the Hoyas. Ripley's coaching skill was evident at the start: his first team won 12 of 13 games. In 1929, he was hired away by Yale, but returned to GU in 1938 to win a share of the Eastern Intercollegiate Basketball Conference (EIBC) title in 1941. By 1943, he coached his finest team, the "Kiddie Korps" of freshmen and sophs that advanced to the NCAA finals. When GU suspended basketball for World War II, Ripley was hired by Notre Dame and led that school to an NCAA berth in 1946 before returning to Georgetown for a final stint through 1949.
In his later years, Ripley coached at a number of schools, including Army, John Carroll, and Regis, and served as the head coach for Olympic teams for Canada and Israel well into his 60's. Ripley died just prior to the Hoyas' second Final Four appearance in 1982.


---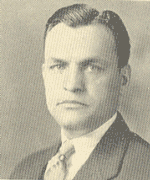 6. Bill Dudack
1929-1930: One season, 13-12 (.520)
Alma Mater: Georgetown, 1921
Bill Dudack was a three year letterman under Ripley from 1918 through 1921, and an assistant from 1927-1929. Dudack took over the Georgetown coaching duties upon Ripley's departure to Yale University in 1929.

With a veteran squad comprised of players recruited by Ripley, Dudack's team managed only a 13-12 mark.

Following this record, Dudack was not retained as coach for the 1930-31 season.


---

7. John Colrick
1930-1931: One season, 5-16 (.238)
Alma Mater: Notre Dame, 1928
John Colrick was hired from Notre Dame, with an eye on taking George Keogan's up-tempo "Western-style" offense to the East. Following a year as a Georgetown football assistant, Colrick's basketball team suffered through a dismal 5-16 season and he left Georgetown soon thereafter.

A one year coaching stint at Seton Hall followed, but little else is known on Colrick's coaching career thereafter.



---

8. Fred Mesmer
1931-1938: Seven seasons, 53-76 (.411)
Alma Mater: Georgetown, 1930
Former Georgetown guard Fred Mesmer was not even two years out of college when he assumed the coaching duties at the Hilltop following the one year tenure of John Colrick.

The team managed only two winning seasons under Mesmer, which won 64% of its home games but only 23% (17-56) away from home. Mesmer coached the Hoyas to an upset over top-ranked NYU in 1935, the biggest win of his eight year tenure.




---

9. Ken Engles
1945-1946: One season, 11-9 (.550)
Alma Mater: Georgetown, 1946
Returning home from World War II, Georgetown senior Ken Engles was pressed into coaching duty when Elmer Ripley could not return to Georgetown from Notre Dame for the 1945-1946 season. Engles is the only player-coach in georgetown's basketball history.

Many of Georgetown's pre-war players had not yet returned, and so Engles' 1945-1946 is an anomaly in Hoya Basketball--outside of Engles, no player had previous varsity experience, and none returned to the team when Ripley returned to the helm a year later.


---

10. Francis (Buddy) O'Grady
1949-1952: Three seasons, 35-36 (.493)
Alma Mater: Georgetown, 1942
An assistant under Elmer Ripley, former Georgetown letterman Buddy O'Grady piloted the club for three seasons.

His first two teams struggled with its schedules, but the 1951-52 club won the most games of the decade (15) as the first team to play at McDonough Gymnasium, winning 10 of 12 home games that season. Despite the optimism surrounding the move back to campus, O'Grady resigned after the 1951-52 season.


---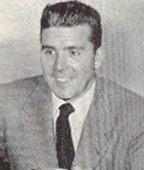 11. Harry (Buddy) Jeannette
1952-1956: Four seasons, 49-49 (.500)
Alma Mater: Washington & Jefferson, 1938
Member of Basketball Hall of Fame
Buddy Jeannette came to Georgetown following a successful NBA playing and coaching career, including a title with the original Baltimore Bullets.

His 1953 Georgetown team captured the school's first ever NIT berth, but a series of injuries and mid-season academic losses dimmed the Hoyas chances for his next three years. jeannette resigned after the 1955-56 season.


---

12. Tom Nolan
1956-1960: Four seasons, 40-49 (.449)
Alma Mater: Georgetown, 1938
A basketball letterman from 1935-1938, Georgetown Hall of Fame baseball coach Tom Nolan assumed the basketball duties following Buddy Jeannette's departure in 1956.

The Hoyas did not climb above .500 during Nolan's tenure, and by 1960 Nolan opted to focus solely on baseball, where he coached the Hoyas through the 1978 season.



---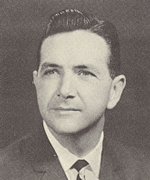 13. Tom O'Keefe
1960-1966: Six seasons, 82-60 (.578)
Alma Mater: Georgetown, 1950
A Hoya standout from 1946-1950, freshman basketball coach Tom O'Keefe was named varsity head coach in 1960 following the reassignment of Tom Nolan. During his tenure, Georgetown began to win more consistently, but the lack of local recruiting and its traditional late season setbacks resulted in no post-season bids in his tenure.

O'Keefe, a part-time coach, returned to business concerns following the 1966 season.



---

14. John Magee
1966-1972: Six Seasons, 68-79 (.465)
Alma Mater: Boston College, 1959
When Georgetown held a search for its coach in 1966, not a single college head coach or assistant applied. But following a recommendation from Boston College coach Bob Cousy, Georgetown hired the basketball coach at Boston's Catholic Memorial HS, Jack Magee.

Magee brought the Hoyas back into the national spotlight with a 1970 NIT bid, but the program could not overcome internal strife and subsequently dive-bombed to a 3-23 record by 1972. Magee and athletic director Robert Sigholtz were both dismissed as a result.
---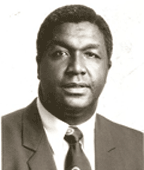 15. John Thompson
1972-1999: Twenty-seven seasons, 596-239 (.715)
Alma Mater: Providence, 1964
Member of Basketball Hall of Fame
In 1972, John Thompson was already a local basketball legend. A decade earlier, he was an Parade All-America center on the local John Carroll HS team which won 55 straight from 1958-1960. At Providence, he was the New England Player of the Year in leading the Friars to the 1963 NIT title and its first-ever NCAA bid in 1964. In the pros, he won two NBA titles with the Boston Celtics, but left after two seasons for a teaching post in Washington. In six years, he coached the St. Anthony's HS team to a 122-28 record.
The 29 year old coach was selected over DeMatha HS' Morgan Wootten and Maryland assistant coach George Raveling to turn the program around. Thompson became the first African-American head coach at a major Division I program and only the third in all of Division I. Georgetown officials hoped the new coach could take the Hoyas to an "occasional" NIT bid every few years or so. Over the next twenty seven years, was a seven time National Coach of the Year, coach of the 1988 U.S. Olympic team, and posted 24 consecutive post-season (19 NCAA, 5 NIT) appearances.
---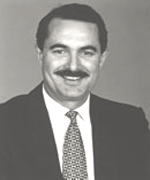 16. Craig Esherick
1999-2004, Six seasons, 103-74 (.582)
Alma Mater: Georgetown, 1978
Craig Esherick was thrust into the national spotlight upon John Thompson's sudden resignation in January 1999. Largely unknown to the national media, Esherick has been a part of Georgetown basketball for a quarter-century. The Silver Spring, MD native was a four year letterman from 1974-1978, then a graduate assistant during his final two years of law school at Georgetown. Esherick was offered the position of assistant coach in 1982 following Bill Stein's departure to become athletic director at St. Peter's College, where he served for 17 seasons. He coached the Hoyas to their first NCAA regionals appearance in five years during the 2000-01 season, but after four consecutive finishes without an NCAA bid and a nine game losing streak to end the 2003-04 season at 13-15, Esherick was dismissed in March, 2004.


---

17. John Thompson III
2004-Present, Ten seasons, 227-104 (.661)
Alma Mater: Princeton, 1988
John Thompson III, eldest son of John Thompson, arrived at GU following ten years on the Princeton coaching staff, the last five as head coach, compiling a 68-42 record. Thompson became the first head coach in the history of the Georgetown program to arrive with prior head coaching experience, and used his Princeton offensive philosophy to propel the Hoyas into the NIT in his first season, the NCAA Sweet 16 in his second, and the Final Four in his third.




---
Produced in conjunction with HoyaSaxa.com, an independent web site not affiliated with Georgetown University. All rights reserved.
Images and graphics of Georgetown University are cited within fair use guidelines unless stated.
Comments welcome: info@hoyabasketball.com
Disclaimer and Details
A M D G